Overview of Chinese food contact safety requirements
Start Date
12th Feb 2018 10:30am
End Date
12th Feb 2018 11:30am
Duration
1 hour
Description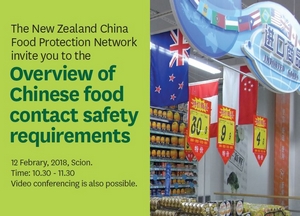 The definition of food contact material (FCM) in China will be introduced. The Food Safety Law is the foundation of the FCM standard system. From 2017 new standards and regulations have been established for application in China, including horizontal standards, material standards, test methods, and good manufacturing practices. Other standards such as those for starch-based FCM and printing inks are still on the way. The new system has been designed to better capture all requirements and be scientifically robust. It will also enable more transparency and sharing of information about materials. However, there are still challenges with the new regulations. These will be discussed as part of the presentation.
Venue: Scion, Sala Street, Rotorua
Video conferencing is also available.
For registration to this event please contact
Lou Sherman at lou.sherman@scionresearch.com