Science in our Forests
Start Date
16th Dec 2017
End Date
9th Feb 2018
Duration
56 days
Description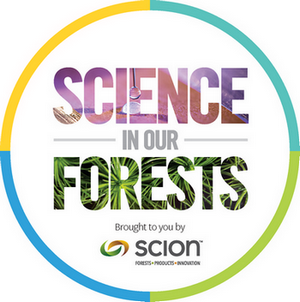 Science in our forests – presented by Scion

Discover weird, wonderful and practical science at Rainbow Springs this summer at the Science in our Forests exhibition.

Find out about the world class science happening in our forests and see what the future might look like. See live insects up close, learn more about how we can protect our forests, have a go at flying a miniature drone and get a glimpse into the future of a wood powered world.

Scion scientists will also present a variety of educational talks to inspire and educate you and your up-and-coming scientists throughout January.

The exhibition runs until 9 February 2018 and is presented by Scion.
Talk schedule
| | | | |
| --- | --- | --- | --- |
| Date | Talk times | Speaker | Subject |
| Wednesday 3 January 2018 | 12.15pm & 3.15pm | Toni Withers | Some interesting insects from our forests |
| Monday 9 January | 12.15pm & 3.15pm | Emily Telfer | DNA from your handbag |
| Wednesday 10 January | 12.15pm & 3.15pm | Ali Nazmi | Bugs & bioplastics |
| Friday 12 January | 12.15pm & 3.15pm | Emily Telfer | DNA from your handbag |
| Monday 15 January | 12.15pm & 3.15pm | Ben Morrow | Identified flying objects in our forests |
| Wednesday 17 January | 12.15pm & 3.15pm | Peter Scott | Fighting back against tree diseases |
| Friday 19 January | 12.15pm & 3.15pm | Ali Nazmi | Bugs & Bioplastics |
| Monday 22 January | 12.15pm & 3.15pm | Marc Gaugler | 3D Printing from trees |
| Wednesday 24 January | 12.15pm & 3.15pm | Marc Gaugler | 3D Printing from trees |