Dr. Brian Richardson
Dr. Brian Richardson
Contact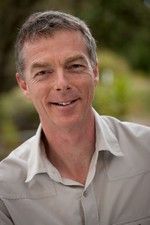 About
In his role as General Manager, Forest Science, Brian oversees research relating to forest growing including forest genetics, management (growth modelling, resource assessment, wood quality), environment / sustainability, and protection (biosecurity, health, fire) activities.
Brian's research interests are varied. Over the past 29 years he has made a number of significant contributions to pest management, vegetation management and sustainable forest management.

He has for many years worked collaboratively with the USDA Forest Service on the development of spray modelling software to determine pesticide drift and efficacy.

In recognition for his contribution, he received a technology transfer award from the USDA Forest Service in 1996.

The knowledge on aerial spraying technology has also been put to good use in New Zealand with Brian's involvement in a number of Technical Advisory Groups formed by the Ministry of Agriculture and Forestry to provide advice on a number of pest eradication programmes.

As an internationally-recognised expert in forest vegetation management, Brian has been a plenary and invited speaker at a number of international science conferences.

His research has included development of forest weed control regimes, models to describe the effects of weeds on tree growth, and decision support tools to evaluate the cost-benefit of treatment regimes.

Another research interest is assessing the long-term productive capacity of forest sites. Brian played a leading role in designing a large, site quality experiment that comprised a national series of plots. The purpose of this work was to determine indicators for sustainability of forest management practices and the experiment is now yielding valuable data used by many scientists.
Qualifications
Hons (Biology) Lancaster University, UK - 1981
MSC (Bio-aeronautics) Cranfield Institute of Technology,UK - 1982
PhD (Forest Ecology) Oregon State University, USA - 1988
Research capabilities
Science management
Vegetation management and modelling resource competition
Pest management
Improving aerial spray application efficacy, including the development of simulation models and decision support systems
Sustainable forest management - measurement and modelling of site quality
Career highlights
2008: Plenary speaker (funded) at Canadian Forest Service Workshop on spray modelling, Ontario Canada.
2008: Invited speaker (funded), International Weed Science Society meeting, Canada (declined).
2008: Invited onto Governance Boards of Future Forest Research Ltd and the Radiata Pine Breeding Company Ltd.
2007: Invited speaker, NZ Plant Protection Society Symposium.
2006: Invited onto Bushfire CRC governance board (resigned 2008).
2006: Invited speaker: USDA Aerial Application Technology and Research Conference, Texas, USA.
2005: Invited speaker: 5th International Conference on Forest Vegetation Management
2004: Invited Speaker International Conference on Pesticide Application for Drift Management, Hawaii, USA.
Selected papers
Grace, J. C., Richardson, B., Gous, S., Thistle, H. W., & Teske, M. E. (2011). Evaluation of the AGDISP canopy model. Paper presented at the American Society of Agricultural and Biological Engineers Annual International Meeting 2011, 4, 2798-2810.
Ramsfield, T., & Richardson, B. (2010). IUFRO International Forest Biosecurity Conference 16 – 20 March 2009, Rotorua, New Zealand. New Zealand Journal of Forestry Science, 40, 91-92.
Richardson, B., & Kimberley, M. O. (2010). Lessons learned from monitoring the effectiveness of the asian gypsy moth aerial spraying eradication program. Applied Engineering in Agriculture, 26(3), 355-361.
Richardson, B., Kimberley, M. O., & Gous, S. F. (2011). Aircraft calibration for application of solid baits for pest eradication operations. Paper presented at the American Society of Agricultural and Biological Engineers Annual International Meeting 2011, 4, 2818-2842.

Richardson, B., Kimberley, M. O., & Gous, S. F. (2011). Aircraft calibration for pest eradication operations using pesticides formulated as solid baits. Transactions of the ASABE, 54(4), 1245-1254.

Teske, M.E., Thistle, H.W., Schou, W.C., Miller, P.C.H., Strager, J.M., Richardson, B., Butler Ellis, M.C., Barry, J.W., Twardus, D.B. & Thompson, D.G. (2011). A review of computer models for pesticide deposit on and prediction. Transactions of the American Society of Agricultural and Biological Engineers, 54(3), 789-801.