Stephanie Sopow
Stephanie Sopow
Contact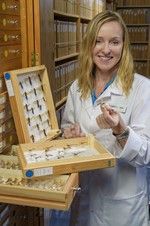 About
Stephanie Sopow is a forest entomologist specialising in insect identification and diagnostics. She is the curator of Scion's Forest Health Reference Laboratory's insect collection.
Qualifications
MSc (Forest Entomology), University of New Brunswick, Canada - 2000
BSc (Hons) (Biology), University of Victoria, Canada -1996
Research capabilities
Insect identification and diagnostics
Biosecurity / Invasive species
Forest insect ecology
Curator of the Forest Health Reference Laboratory's insect collection
Selected papers
Bain, J; Sopow, S L; Bulman, L S. 2012. The Sirex woodwasp in New Zealand: History and current status in Slippers, B.; de Groot, P.; Wingfield, M.J. (eds) The Sirex Woodwasp and its Fungal Symbiont: Research and Management of a Worldwide Invasive Pest. Springer. XII, 301p. 71 illus., 52 in color.
Silk, P J; Sweeney, J; Wu, J; Sopow, S; Mayo, P D; Magee, D. 2011. Contact sex pheromones identified for two species of longhorned beetles (Coleoptera: Cerambycidae) Tetropium fuscum and T. cinnamopterum in the subfamily Spondylinidae. Environmental Entomology 40(3): 714-726.
Sopow, S L; Shorthouse, J D; Strong, W; Quiring, D T. 2003. Evidence for dose-dependent chemical gall induction by Adelges cooleyi. Ecology Letters 6:1-4.