Forest Health Collections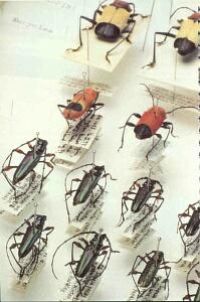 Scion holds the largest sample collections and databases relating to forest health in New Zealand.
Fungal Collection
The extensive fungus collection managed by Scion specialises in fungus pertaining to trees - both native and exotic. The herbarium contains approximately 3000 collections of pathogenic and saprophytic (particularly wood decaying) fungi (and a few algae and lichens) from temperate New Zealand native forests, exotic plantations and urban amenity plantings.
There is also a small collection of pathogenic fungi from western North America. The culture collection holds approximately 1600 isolates of a similar range of fungi as the herbarium. These collections have their origins back in the 1920s New Zealand Forest Service.
Herbarium loans are made to other herbaria rather than to individuals. Cultures are priced at $US150.00 each unless it is for genuine scientific research in which case there is no charge. If you require a culture for science research, please include a reference from your organisation outlining the nature of this research. Payment must be made before cultures are dispatched.
Insect Collection
The Scion insect collection is an essential research, diagnostic and archival resource for forest health work. It was established in 1948, and now contains approximately 100,000 pinned specimens consisting mainly of forest insects and insects affecting timber in use. Parasitoids are well represented.
The collection contains adults gathered during forest surveys and trapping, and those reared from field-collected caterpillars and wood boring larvae. Specimens in ethanol (approximately 44,000) include immature stages associated with adults.
Also in the collection are the many insects discovered during quarantine inspections imported timbers, casewood and dunnage. Major holdings are Coleoptera (Cerambycidae, Scolytidae, Curculionidae); Lepidoptera (Tortricidae, Noctuidae, Geometridae); Hymenoptera (Ichneumonidae).
BUGS database
The BUGS database contains information about all wood and bark boring insects intercepted at New Zealand's border. This database covers the period between 1948 and 1999 and is owned by Scion.
A supplementary database contains information about fungi and egg masses intercepted between 1996 and 2000.
This valuable data is used for risk analysis purposes to determine likely pathways of incursion.
For more information contact Lindsay Bulman

KEY CONTACTS
Science Leader – Forest Protection