Scion Connections

Scion Connections is a quarterly newsletter that aims to keep you up-to-date with our key science success stories and discoveries and to connect you with our people and capabilities.

Subscribe to RSS

Issue 10, December 2013
Molecular motors drive energy technologies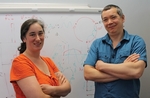 Scion may, at first glance, seem an unlikely place to house a team of theoretical physicists.

The team, comprising Dr Katharine Challis, Phuong Nguyen and Dr Michael Jack are working on molecular motor research and their findings have been published recently by the American Physical Society. Read more...