Scion Connections

Scion Connections is a quarterly newsletter that aims to keep you up-to-date with our key science success stories and discoveries and to connect you with our people and capabilities.

Subscribe to RSS

Issue 7, March 2013
Government invests in Scion technology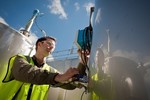 A $4.7 million Government grant to build a world leading waste treatment plant in Rotorua, may pave the way for a cleaner, healthier living environment for New Zealanders. Read more...