Issue 20, June 2016

Scion Connections is a quarterly newsletter that aims to keep you up-to-date with our key science success stories and discoveries and to connect you with our people and capabilities.
Issue 20, June 2016

Fuelling a greener economy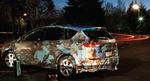 A report released recently by the Royal Society of New Zealand calls on New Zealanders to take action against rising greenhouse gas emissions in an effort to curb global warming. New Zealand's emissions are well above average for developed countries, and steadily rising. ... Read more...