Issue 21, September 2016

Scion Connections is a quarterly newsletter that aims to keep you up-to-date with our key science success stories and discoveries and to connect you with our people and capabilities.
Issue 21, September 2016

View online as a flipbook
Containing the spread of hitchhiking pests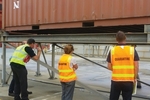 The past 50 or so years has seen a dramatic change in the volume, and mode, of international trade. Not only has the volume escalated substantially, but around 90% of it is carried by sea, mostly in containers.
... Read more...