Issue 22, December 2016

Scion Connections is a quarterly newsletter that aims to keep you up-to-date with our key science success stories and discoveries and to connect you with our people and capabilities.
Issue 22, December 2016
View online as a flipbook
Calling all citizen scientists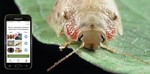 A smartphone app has been developed to give the public a new way to report sightings of eucalyptus pests.
... Read more...