Working with Scion
Why work with us?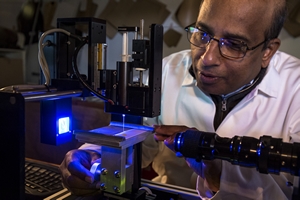 Businesses, industry, iwi and Government organisations work with Scion to gain access to specialist testing and research that solves problems to develop new products and to create commercial opportunities.

What can we offer you?
We offer a wide range of services across a broad range of forest, wood processing and biomaterials areas. These services include: consultancy providing technical advice, testing, research and development through to pilot plant development and commercialisation of research.

We can tailor our research services to meet your needs. These services may be short-term such as a consultancy, placement of a Scion staff member in your business or a testing service. Longer-term services include research projects that may span from several months to several years. These research projects often include other services above and beyond providing the science. These additional services may cover: assistance with funding, intellectual property generation and protection and commercialisation.

Our expertise extends beyond research. We are actively involved in pilot plant development as well as technological and economic evaluation of technologies for industry.

Why choose Scion?
Our people and our research reputation are world-leading in many areas. Scion has the specialist equipment and skills to provide results. We have targeted access to national and international science and technology and collaborate with other research providers.

What other benefits do we bring?
We also work with various funding organisations. Leveraging both Scion and industry contributions to research helps maximise impact.

Scion is actively supporting several iwi groups to explore forestry, wood processing options, ecosystem services, and protecting taonga species to ensure greater economic, employment, social, cultural and environmental returns.

Key contacts
Scion has experienced staff in business development, client relationship, contract management, technology commercialisation and in securing investments.

Dr Russell Burton - General Manager, Research & Investments and Māori partnerships
Katrin Webb, Business Development, Forestry Science
Robert Lei, Business Development, Wastewater treatment & pilot plant facilities
Jeremy Warnes, Business Development, Bio-based materials, composite materials, engineered wood products
Alison Slade – Manager, Research Office - Government investments/funding