Forest Biosecurity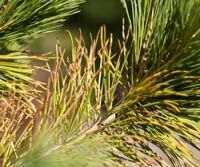 Scion is New Zealand's leading authority on forest biosecurity, with a scope that includes plantation, natural and urban forests.

Biosecurity is the exclusion, eradication or effective management of risks to forests and trees posed by insect pests, pathogens and invasive weeds.

Our forest biosecurity capabilities are broadly focused in three key areas:
Facilities and collections

Scion has the following facilities and collections to support forest biosecurity research:
Containment facility - Secure facility located in Rotorua for the containment of new or unwanted organisms.
National Forestry Herbarium - A comprehensive collection of forest plant species in New Zealand for identification, reference and research purposes. The collection is located in Rotorua.
Forest Health collections and databases - Large insect and fungal collections and databases essential for research and diagnostic work. These resources are located in Rotorua.
Forest Health Reference Laboratory - Services to diagnose insect and disease problems on trees in New Zealand. This diagnostic service is based in Rotorua.
Contact : Lindsay Bulman

For further information, go to our Publications section or read Forest Health News.