Forest entomology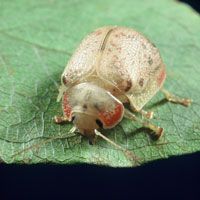 Scion's entomology group specialises in insects associated with woody plants in New Zealand. We offer capabilities to support the people who manage planted, conservation and urban forests.
Our Capabilities include:

Biological control
Biological and ecological risk assessment
Biosecurity, surveillance and diagnostics
Alternative quarantine treatments
Biodiversity and ecosystem function.
A list of our
forest entomology staff
.
Our work is underpinned by access to the nationally significant Forest Health Insect Collection and BUGS database.
We also have specific research infrastructure, such as our purpose-built containment and rearing facility in Rotorua.


Protecting New Zealand from insect pests
New Zealand's forests are threatened by the potential arrival of unwanted exotic species that can disturb the functioning of our forests. As a nation we are obligated to minimise the global movement of invasive pests.
We provide government agencies with the science needed to help protect New Zealand's borders from biological risks.


Managing insect pests in forests
New Zealand's production and natural forests are home to a wide variety of invertebrate species. The majority of insects are beneficial and contribute to the functioning of our forests. Some species are pests that reduce the health and productivity of trees.
At Scion we have capabilities to help reduce the impact of insect pests.


Biological control

Biological control is the deliberate introduction of natural enemies of pests that have become established in New Zealand, in order to reduce the pest population to more "natural" levels.

Eucalyptus tortoise beetle and giant willow aphid are the targets of our current biological control projects.
More information about past biological control projects is available here.
Protecting forest product exports
In order to maintain overseas market access for wood products, New Zealand must ensure all exported goods are free of quarantine pests. We work with exporters to develop effective treatment systems that do not harm the environment.
Contact: Stephen Pawson


The International Plant Sentinel Network
The International Plant Sentinel Network capitalises on vast collections of plants in 2,500 botanic gardens and arboreta world-wide to assist border biosecurity. New Zealand's Better Border Biosecurity (B3) is contributing to the initiative in New Zealand, along with significant contributions from Scion and Canterbury University.

Staff of botanic gardens and arboreta will assist with tasks such as regularly monitoring plant health, taking photographs of pests and diseases, collecting samples for pest or disease analysis and arranging for expert identification. This network will increase New Zealand's ability to identify potential new pests and diseases.

Contact: Eckehard Brockerhoff

KEY CONTACTS
Research Leader, Entomology