Forest pathology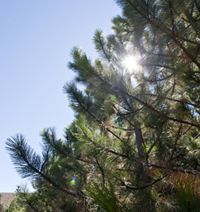 Scion's pathology group specialises in diseases that affect New Zealand's forests.
We offer capabilities to support the health of all forest types: planted, conservation and urban forests.
Our capabilities include:
Biosecurity, surveillance and diagnostics
Chemical control of forest pathogens
Biological control with fungi and viruses
Modified silvicultural regimes
Inducing resistance in trees through micro-organisms or genetic selection
Improving seedling growth using ectomychorrizae
Protecting New Zealand from new forest diseases
New Zealand's production and natural forests are at risk from pathogens that can arrive through global trade and tourism.
We provide the science that supports government agencies to prevent harmful pathogens from entering the country.
Impacts can be greatly reduced by early diagnosis of diseases using molecular and traditional techniques.
Read about our achievements in protecting New Zealand from potentially damaging organisms.
Our diagnostic service is underpinned by Scion's Forest Health Fungal Herbarium and Culture Collection.
Managing forest diseases in New Zealand
The main health issues affecting planted forests in New Zealand are needle, canker and root rot diseases.
More information on specific diseases is available through the following links:
• Dothistroma needle blight
• Cyclaneusma needle cast
• Nectria flute canker
• Armillaria root rot
Read more about how we can help you to reduce disease impacts.
Contact: Rebecca Ganley
Modified silvicultural regimes
We work closely with forest growers to devise ways of manipulating forest management operations and regimes to minimise the effects of diseases such as Dothistroma and Cyclaneusma.
Induced resistance
We undertake research into induced resistance responses in forest trees to insect and fungal attack. Previous studies have found that fungal endophytes are present in all conifer forest systems examined and are believed to have a role in resistance-mediated responses.
Contact: Carol Rolando