Carbon forestry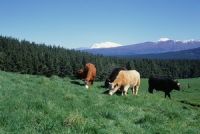 Scion provides data, knowledge, tools and services to support landowners and investors who are interested in establishing carbon forests in New Zealand.
Carbon forestry (or carbon farming, as it is also known) presents opportunities for establishing new forests to earn carbon credits which can be sold on domestic and international markets.
We can guide investors by providing analysis on projected production levels, economic outcome and potential risk.

Our expertise includes broad experience of carbon accounting in planted forests, soil carbon dynamics and the impacts of different management techniques. Core capabilities include:

Species suitability mapping based on projected forest productivity; climate; topography/ slope; soil characteristics; and other identified impediments.
Economic and carbon modelling.
Risk analysis associated with site and species (i.e. pests, diseases, wind and fire).
Plantation forestry establishment, intensive silvicultural systems for production forestry, and harvesting technologies.
Ongoing monitoring plans.
A research and commercial nursery, with nurserymen well practiced at the propagation, growth and establishment of species likely to be used for carbon forestry.
Related work
Scion has undertaken the following projects related to carbon forestry:

Conducted a land use optimisation study for Ngati Whakaue Tribal Lands (NWTL). The results of this study supported NWTL's long term strategic plan aimed at maintaining production, while ensuring environmental integrity.
Developed New Zealand-specific datasets to evaluate the carbon footprint of different building materials.
Provided the Ministry for the Environment with key technologies to monitor carbon stocks within planted forests.
Developed a Land Use Decision Tool allowing the user to evaluate and choose the best land use option (among many competing agricultural and forestry scenarios) for a user-defined area.
Used GIS technologies combined with land-use mapping tools to plot the likely development of future forests in New Zealand.
Used life cycle analysis of greenhouse gas emissions from production forestry to inform policy making and provide a benchmark for forestry operations.
Evaluated the impact of climate change on enhanced growth potential, opportunity for new forestry species

Resources

Forests for wood production, carbon sequestration and erosion control
(YouTube video)
Contact: Graham West