Forest Management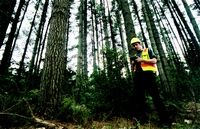 Scion has been New Zealand's leading provider of forest-related knowledge in New Zealand for over 60 years.

Our research and development services extend across the entire forestry value chain, from seed to sawmill.

Scion's aim is to enable forest growers to produce material that meets consumer needs in ways that are cost-effective, efficient and sustainable.

We provide systems and tools to improve the productivity and quality of plantation forests, covering a range of different tree species.

We also provide research and development services in areas relating to all species, including:

For further information, go to Brochures and Factsheets in our Publications section.
KEY CONTACTS
Principal Scientist Forest Science
General Manager Forest Science