Cypresses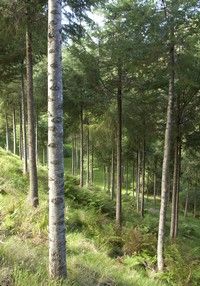 Cypress species (
Cupressus
and
Chamaecyparis
) have been planted throughout NZ for over 150 years.
Cypress timbers currently make up the third most commonly utilised exotic timber species in New Zealand with approximately 20 000 m3 cut annually with most of this being cut from shelterbelts.
Scion is at the forefront of research into cypress species in New Zealand.
Our research into improving cypress and in particular cypress wood durability will increase the variety of end-uses that cypress can be used for.
Utilisation
Good quality cypress wood is suitable for a very wide range of end-uses including: high quality clearwood, decorative veneer, furniture, joinery, weather boards, sarking, mouldings, panelling, flooring, structural, decking and boat building etc. The poorest quality timber is often used for garden sleepers and firewood.
Current research
Our research into cypress durability is key to market development of the species. Currently cypress has a durability class of 3 (5-15 years). If durability can be improved to durability class 2 (15-25 years) then the timber can be used more widely as decking and cladding.
Other areas of research include:
Cypress breeding programme – selecting for improved durability
Screening techniques for timber quality assessments
Cypress Canker caused by fungal infection. Scion has identified some canker-tolerant C. macrocarpa that we intend to graft into a seed orchard and for our breeding population.
Scion is also running cypress regime trials involving different initial stockings, with a variety of pruning and thinning treatments.
Information for growers
Scion has produced a cypress handbook on behalf of the New Zealand Farm Forestry Association (NZFFA). The handbook is part of an electronic handbook series "Best Practice with Farm Forestry Timber Species". For a PDF copy of the handbook visit the
NZFFA website
.