Douglas-fir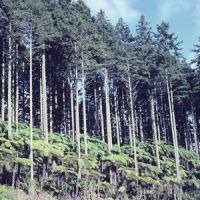 Douglas-fir (
Pseudotsuga menziesii
) is the second most common plantation species in New Zealand after radiata pine, making up 6% of the planted production forest.
While Douglas-fir plantations are predominantly grown in the South Island, there is enormous potential to expand this area, in cold, wet and windy parts of New Zealand.
Scion research shows that some sites in the South Island are capable of producing the best Douglas-fir growth rates and standing volumes in the world.
We help growers to realise the potential of this highly regarded species by providing knowledge, advice and decision support tools.
Utilisation
Douglas-fir timber can be used for structural applications and is widely accepted on the world market. Its strength, toughness, durability and decay resistance are superior to many other softwoods.

Current research
Scion provides knowledge, advice and decision support tools that aid Douglas-fir growers to ensure higher returns through maximum production and improved wood quality.
Information for growers
Scion has recently published a Douglas-fir manual that contains comprehensive information on growing and managing Douglas-fir commercially.
To purchase a copy of this popular publication, email us at
publications@scionresearch.com
.