Harvesting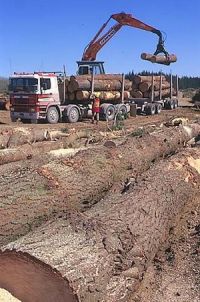 Scion's harvesting research programme is aimed at reducing the costs, and improving the productivity and safety of logging operations.

This research is vital to the industry due to the high relative costs of extraction versus returns. In New Zealand, the harvesting operation contributes to approximately 50% of the total cost of wood production, representing one of the highest harvesting costs in the world.
In order for New Zealand to realise the considerable opportunities offered by planting forests on marginal land, improved technologies are needed that increase the efficiency of harvesting on steep terrain.

Scion is focused on identifying practical opportunities for the industry to reduce costs and improve its ability to compete on international markets.
Key capabilities
Harvesting Operations Research
Forest Engineering Research
Human factors and ergonomics
Environmental impacts and mitigation
Focus Areas
Investigating implementation of field management tools to allow improved management control
Projects in human ergonomics to emphasis optimal work scheduling and study health and safety issues


Mechanisation of steep country harvesting and how this can optimise performance and reduce accidents

Cost benefit analysis of new equipment and practices in harvesting systems

Environmental regulatory impacts on harvesting.

This work involves a combination of field studies, analysis, collaboration both in New Zealand and overseas and keeping abreast with technology advances in a range of industries internationally.
Contact: Richard Parker
KEY CONTACTS
Principal Scientist Forest Science