Radiata Pine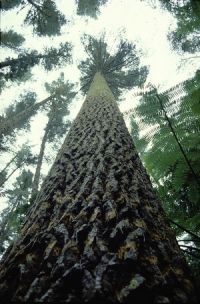 New Zealand has approximately 1.8 million hectares of planted production forests, 89% of which is radiata pine (
Pinus radiata
D. Don).
Scion has been a key player in pioneering the domestication of radiata pine as a major commercial softwood species in the Southern Hemisphere.
We provide knowledge, advice and decision support tools that aid forest managers to ensure higher returns through maximum production and improved quality of wood and fibre.
Utilisation
Radiata pine is a highly versatile species that grows well on a wide range of sites in New Zealand.
Easily dried and processed, it can be used in structural and non-structural applications, or for pulp.
Current research
Much of our current research activity is conducted for
Future Forests Research Ltd
a partnership between Scion and New Zealand forest growers.
In addition, we supply leading-edge forest management and processing tools for the forestry industry through our software development group,
ATLAS Technology
.
Our research and development services cover the entire forestry value chain including:
Information for growers
The
Radiata Pine Growers Manual
provides comprehensive information about growing and managing radiata pine commercially.
FRI Bulletin 124 (Introduced Forest Trees in New Zealand: Recognition, Role and Seed Source) is also available from Scion.
To purchase a copy of these popular publications
click here to download and print the order form
.