Redwood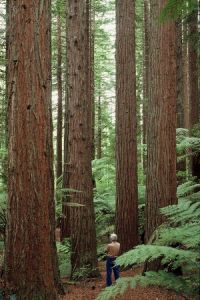 Coast redwood (
Sequoia sempervirens
) is of increasing interest to the New Zealand forest industry as a potential plantation tree.
The area of redwood plantations in New Zealand is currently only a few thousand hectares, however there is high potential to increase this area.
Scion research has shown that redwood can grow on a wide range of sites and outperforms radiata pine in some cases.
Rapid growth and longevity mean redwood stands can carry huge volumes of wood and are therefore ideal for carbon sequestration.
Utilisation
Redwood is an 'appearance wood' with highly durable heartwood. It is sought after for interior panelling, cladding, decking, and fencing. Demand for redwood appears to be consistent regardless of the level of new building activity as it is used as much in renovation as it is in new buildings. Redwood offers opportunities for export into the lucrative Californian market.
Current research
Scion is researching wood properties and performance of New Zealand-grown redwood, particularly characteristics such as density, stability and durability which could potentially affect export markets.
Much of our research activity on redwood is conducted for
Future Forests Research (FFR)
a partnership between Scion and New Zealand forest growers.
Click
here
for more information on FFR's diversified species research programme.
Information for growers
Scion has produced a redwood handbook on behalf of the New Zealand Farm Forestry Association (NZFFA).
The handbook is part of an electronic handbook series "Best Practice with Farm Forestry Timber Species". For a PDF copy of the handbook visit the NZFFA
website
.
Also available is FRI Bulletin No.124. To purchase a copy of these popular publications click
here
.