Tree Improvement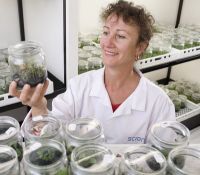 Scion is a leader in advanced breeding programmes and deployment strategies for commercial tree species.

Our research ensures that new plantations utilise optimal germplasm to guarantee an ongoing competitive advantage for plantation forest industries.

Species undergoing continuous improvement in our research programmes include radiata pine, eucalypts, Douglas-fir, cypresses, kauri and totara.

Scion's tree improvement capabilities are focused in three key areas:
Brochures and Factsheets
in our
Publications
section.