Propagation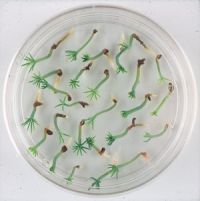 Scion has developed a suite of propagation technologies for radiata pine and other forestry species, including tissue culture and nursery cuttings.
These technologies are used for the mass propagation of scarce control-pollinated seed, allowing rapid uptake of genetic improvements by the forest industry.
Scion does research on improving germplasm for the
Radiata Pine Breeding Company
.
Seed orchards then take these improvements into commercial seed production.
Tissue culture
Scion is one of the few tissue culture laboratories in the world that specialises in tree species. The radiata pine protocols we have developed for all these techniques are now being extended to other species, including Douglas-fir, cypresses, eucalypts and redwoods.
Researchers are also evaluating the best propagation systems for kauri and other indigenous species, particularly the ones that have irregular seed years such as the podocarps and beeches.
Organogenesis is the 'traditional' tissue culture of plant parts initiated from shoots or seeds. Shoots are grown and multiplied in artificial conditions before being rooted to produce plants. It is similar to a nursery cuttings system, but because they are growing in optimum conditions the rate of multiplication is greater.
Embryogenesis starts with seed embryos extracted from immature cones just after fertilisation, resulting in even greater multiplication. In the right conditions they proliferate into thousands of embryos, which are then multiplied up, matured and germinated. Embryogenic cultures can be stored cryogenically and propagated some eight years later when the results of field tests are known.
Both tissue culture and traditional nursery culture methods can be used in combination to achieve greater multiplication and better plant quality.
Scion Nursery
The Scion Nursery, located in Rotorua, offers commercial volumes of special-purpose planting stock. The nursery includes a large container-growing operation, which is able to grow on contract a wide range of species in a variety of container types, and a bare-root operation.
Our key capabilities
Tissue culture (organogenesis and embryogenesis)
Seamless expertise, from tissue culture into the research nursery
Cryogenic storage of germplasm
Grafting for seed orchard stock
Specialist production of tree stock for research trials
Commercial opportunities
Scion provides specialist propagation techniques to industry, including embryogenesis for clonal forestry companies. A recent example includes the production of clonal redwood for a New Zealand client.
International work includes developing tissue culture techniques for Queensland's hybrid pine (
P. elliottii
x
P. caribaea
.) as well as tissue-culture protocols for the prehistoric Wollemi Pine.