Tree breeding & selection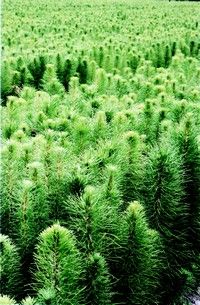 Scion increases crop value by developing new germplasm that is matched to sites and end-use targets.

We operate in partnership with the Radiata Pine Breeding Company.

Species undergoing continuous improvement in our research programmes include radiata pine, eucalypts, Douglas-fir, cypresses and acacias.

One of our strengths is the ability to use molecular techniques in practical breeding programmes.
Quantitative techniques
Scion has up-to-date quantitative analysis techniques, using BLUP and ASReml. Using these techniques, we can ensure the best and most accurate breeding value and genetic gain predictions.

This knowledge will, in turn, ensure the best selections are made for deployment and for breeding elite individuals and future generations.
Field trials
Our team has a long history of expertise in the design, establishment of field trials, including single-tree-plot, split-plot designs and large-plot designs for the validation of genetic gain.

In addition, we have a field crew with years of experience for high-quality data capture for well-known breeding traits assessed in programmes world-wide.
Our key capabilities
Genetic analysis
Trial design
Trial planting
Growing of plants for trials
Trial measurement
Selection and crossing designs and associated field work.
Breeding strategy and breeding plan development
Plus tree selection and grafting
Seed source advice
Hybrid breeding
Examples of our achievements
Radiata pine breeding has been developed by Scion since the 1950s, in conjunction with industry.

GF and GFPlus systems for rating radiata pine were originally developed by Scion.
Development and refinement of breeding plans for radiata pine in partnership with the Radiata Pine Breeding Company (RPBC).
Commercial opportunities
We offer advice and consultancy services to forest growers looking to develop their own breeding programmes. Our services include genetic analysis and breeding; trial design and establishment; and advice on species.

KEY CONTACTS
Principal Scientist Forest Science