Woody Biomass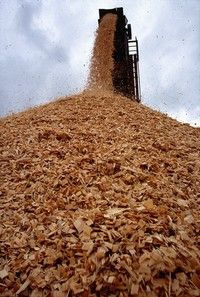 "Woody biomass" is a term used to describe material from any woody or lignocellulosic plant.
In simple terms it is a store of solar energy captured during plant or tree growth using the process of photosynthesis.
Woody biomass can be used as a source of energy not only for domestic situations but also larger-scale commercial and industrial applications.
Scion is working with government and industry to promote the use of woody biomass as an energy source.
For more information, go to the Bioenergy Knowledge Centre – an information portal managed by Scion to support the growth of bioenergy use in New Zealand.
Our key capabilities
Resource analysis - Scion holds extensive datasets on New Zealand woody biomass resources, including plantation forests, forest residues and wastes.
Multi-use forests – Research programmes focus on multi-use forests, which can produce a range of products including feedstocks for energy and biofuels. Studies include evaluation of close spaced eucalypt plantations, selection of species, hardwood and softwood, with high biomass production and their siting preferences.
Woody biomass conversion – Our expertise covers the three main types of technologies to convert woody biomass into energy: combustion, pyrolysis and gasification.
Converting biomass to energy
Resource analysis
Scion has developed a Geographic Information Systems (GIS) model for biomass recovery that calculates feedstock supply costs and delivery costs of biomass to an energy plant. The model has been used to optimise energy plant scale, siting and long-term feedstock supply security.
Residues-to-fuel
Scion was the lead organisation in the 'Bioenergy Options for New Zealand' study. This project was initiated to consider New Zealand's bioenergy potential and developed a strategy for the future.
Torrefaction: Technology for energy-dense fuels wood fuels
After less than an hour of being treated at 200 to 300ºC in an oxygen-free environment, torrefied wood becomes a more versatile fuel compared with conventional wood. The torrefied wood has a low moisture content, high energy density and can be easily crushed – reducing transport costs. This torrefied wood has the potential to compete with coal as a fuel source in New Zealand.
Fuel Upgrading and Densification
Scion is developing expertise in pre-treatment of biomass that improves transportation logistics through energy densification, fuel quality for combustion, pyrolysis and gasification.
Fuel-to-energy
Scion has project managed the conversion of school coal boilers to wood pellet burners. Cost-effective technical solutions have enabled a nationwide initiative driven by EECA to provide carbon neutral heating systems for schools. For more information visit the Bioenergy Knowledge Centre.
Systems analysis
Models are being developed to generate materials/energy balances and life cycle assessments across such operations and direct strategies for improved energy and carbon efficiencies in lignocellulosic-to-biofuels processes. More…
Commercial opportunities
Scion, with EECA funding, has recommended a variety of actions the forest and wood processing industries could take to encourage businesses to tap into the energy potential of woody biomass. To read the report, go to the Bioenergy Knowledge Centre.