Bioplastics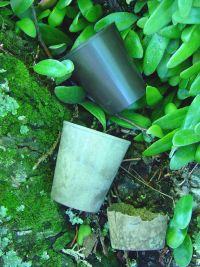 Scion is New Zealand's centre of expertise in bioplastic research and development.
We work alongside industry and partners undertaking research and development in novel bioplastics, recyclates and biodegradables using (woody) resources and waste biomass. We provide bioplastic R&D support for New Zealand's plastic industry.

At Scion we have been working alongside industry and partners undertaking R&D in bioplastics, bio-based additives, biocomposites, biofoams and biodegradables for more than 10 years. Our staff, many of whom have hands-on practical experience working in the international plastics industry, work with manufacturers to develop new bioplastic products to meet demanding performance goals. Scion can produce, characterise, modify, formulate and process biopolymers, additives, biocomposites, biofibres, biofoams and their derived products. This expertise and service also extends to conventional plastics as required.

Businesses come us to develop new products or applications, overcome product development hurdles, get expert advice, and, ultimately, to create and deliver innovative bioplastic products. The companies that engage with us include plastics manufacturers, end-product producers, brand owners, exporters, primary producers and regional councils.
We partner with companies on long and short-term research contracts, undertake testing and offer consultancy and advice to industry.

Scion's Business Managers and our Research Office can help New Zealand companies obtain funding from a variety of sources including TechNZ project funding. TechNZ has a range of services to help businesses grow through R&D.
Please contact Jeremy to discuss how you can work with us.

Jeremy Warnes
Telephone: +64 7 343 5791
jeremy.warnes@scionresearch.com
Scion's bioplastics expertise
Scion is New Zealand's leading institute for research, expertise and technology development for:
Production technologies for renewable biobased polymers and chemicals
Bioplastics and hybrid materials for packaging, biobased additives and biofibres
Extrusion compounding, reactive extrusion and processing of bioplastics and biomasses
Biopolymer foam technologies
Biodegradable plastics and testing for compostability
Bio-based and waste-derived chemicals & additives
Biocomposites based on wood and other natural fibres
Sustainable options for food packaging based on bioplastic and pulp & paper technologies
Life cycle analysis, carbon and water footprinting
Integrated biofuels and bio-chemical / polymer production via biorefinery processes and integrated downstream polymer formulation and processing.
More information about our bioplastics research:
Scion Research Highlights 2011 describes some of Scions' bioplastic hits from the past year
Scion's bioplastics research is discussed on Our Changing World (Radio NZ). Audio, 23 minutes.
High temperature resistant PLA foams (PDF). From Bioplastics Magazine.
Examples of Scion-industry-research partnerships in bioplastics
The Biopolymer Network – Creating a new PLA foam
A new environmentally-friendly biofoam researched and developed by Scion scientists under contract to Biopolymer Network won the "Best Innovation in Bioplastics" category at the 2008 International Bioplastics Awards in Munich. The novel polylactic acid (PLA) foam was selected for its green credentials and key performance attributes at low densities, comparable to existing petroleum-based materials like expanded polystyrene foam. This expanded PLA performed well in industrial-scale trials at several locations in New Zealand, Europe and USA.


Mulford International – Creating the Biopeg®
The challenge was to make a fastening product for use in the outdoors, tough enough to be hit with a hammer, withstand wind and rain, and made of an environmentally sustainable material that could be safely left in the soil. Mulfords have commercialised a new eco-friendly plastic material developed by Scion, with their product Biopeg®. The peg and washer are made from a mix of natural, benign, renewable and biodegradable materials that naturally decompose through the combined actions of bacteria, fungi and weathering.


Zespri – developing the bio-spife
The 'spife' is a utensil to cut, scoop and eat ZESPRI® kiwifruit. Scion had developed technologies to use fruit waste as feedstocks for bioplastic polymers or functional additives useful in bioplastics. These have been applied to develop functionally useful spifes from fruit waste and derived bioplastics. This fruit modified bioplastic also offers end of life compostability.



Scion has working relationships in bioplastics with many other companies, including:
Lignotech Developments. Integrating steam exploded biomaterials in bioplastic and plastic propducts.
Clariant. Developing modified bioplastics and licensing agreements in biodegradable bioplastic compounds.
Sonae Industria (France). R&D, testing, licensing and product development with Sonae Industria - one of the largest wood based panels producers in the world. Scion developed a wood fibre-based material with excellent reinforcement and dispersion properties that can be incorporated in to most blends and polymers.


Scion bioplastics capabilities
Scion's biomaterials focus for the past 10+ years has allowed us to develop strong capabilities in a number of areas, namely;
Advanced Bioplastics: Scion develops bioplastics with enhanced functionality. We have developed high impact-high strength modified PLAs, heat resistant and flame-retardent PLA. We enhance commercially available bioplastics through extrusion, novel bio-based additives – integrated reactive modified processing technologies - with an emphasis on PLAs, PHAs, biopolyesters, starches, and other biopolymers.
Biopolymer Production & Biorefinery Technologies: Developing technologies to enable New Zealand to manufacture its own biopolymers, renewable biobased chemicals and functional additives, using green chemical, enzymatic and microbial production technologies. For example, we are developing the production of PHAs, novel functional biopolymers, and additives from industrial wastes, biomasses, or biorefinery by-products and we are developing new biopolymers from new biomass feedstocks.
Biobased Additive Technologies: We have developed a suite of chemicals, fillers and functional fibres useful as novel additives in both plastic and bioplastics, including flame retardants, impact modifiers, heat stabilisers, and antioxidants. Some are developed in conjunction with our Biopolymer Network partners.
Biofoams and Low Density Bioplastics: Expertise in the manufacture of lightweight biopolymer products from extrusion foaming, rotational moulding, particle (bead) foaming and wet/liquid polymer foaming. For example, with our Biopolymer Network partners we have pioneered PLA foams as alternative to polystyrene foams.
Functional Food Packaging: New Zealand's leading expertise for food packaging in plastic and paperboard packaging. We are developing new lightweight packaging options, improved barrier polymers and packaging concepts for hybrid biopolymer-pulp materials.
Sustainability Capabilities: Technologies to help plastic manufacturers improve their sustainability profiles, such as carbon and water footprints.
By introducing waste or biomass derived fillers and additives into traditional plastics or bioplastics, Scion can enhance the aesthetics, flexibility, strength and stiffness of traditional products, all the while reducing input materials, cost and environmental impacts. From surveys of available biomasses and wastes (solid, liquid and wastewaters) in New Zealand we have developed a range of approaches to treat and convert these into feedstocks useful for bioplastic production.
Added to this is our ability to enhance recycled plastics through additive technologies and our expertise in quantifying sustainable benefits through life cycle assessment tools. End-of-life options such as recycling, energy generation and composting are all important for bioplastics and plastics. Scion has experts and facilities to test compostability and associated ecotoxicity and soil/water health tests, according to international standards and protocols.
Scion bioplastics research
Scion continues to align its research programme with international technological and consumer trends as well as New Zealand manufacturing capability. In addition to major overseas trends, the following factors help drive our research an innovation:

Using New Zealand's lignocellulosic (woody) resources and waste biomasses
Exploiting emerging biorefinery processes for the development of new integrated bioplastic processes and products
Focus on minimised processing and green chemical or biological processes
generating credible data on environmental impacts or functionality claims, including lifecycle analysis,
Compostability/degradation and renewable carbon contents
We specialise in enhanced performance of bioplastics over and above what is emerging commercially. These enhanced functionalities include: improved gas barriers, heat/flame resistance, toughness, melt strength and durability degradation control.
Scion is advancing several initiatives to produce novel bioplastic polymers, bio-additives or chemicals from biomass. Some of these technologies are being progressed as part of a biofuel production process in New Zealand. One initiative uses microbial technologies which can transform biomass, including wastes and waste waters into high performance bioplastics. Scion has sequenced two microbes that make PHA from biomass resources. This finding is a milestone in optimising microbial processes and using them to engineer new polymer structures and integrated processing.
In another development Scion is developing novel bioplastics and additives from bioresources in New Zealand through thermochemical methods and/or chemical polymerisations. The polymer synthesis focuses on polyesters and their precursors.
Various biomass resources are being evaluated including bark, lignin, and other forestry/agri- residues, fruit wastes and corn residues. Some of the research into bark is being conducted with the Biopolymer Network, a three way partnership with Agresearch, Plant & Food Research and Scion.


New facility for measuring compostability and biodegradation profiles
Scion has established a new facility that can determine biodegradation profiles under controlled conditions, such as those experienced in industrial composting plants. The facility measures CO2 evolution over time under various conditions, a key aspect for confirming biodegradation. This new facility is available for clients.
KEY CONTACTS
General Manager Manufacturing and Bioproducts
Scientist & Team Manager, Biopolymers and Chemicals
Business Development Manager