Wood-plastic Composites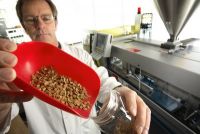 Combinations of wood or wood fibres and polymers are increasingly being used to enhance the performance of plastics and bioplastics.
Scion's research focuses on understanding the interactions of polymers with wood and pulp fibres, and how these interactions impact on processing and performance.
Scion is a world leader in developing composites specifically tailored for the end use, in products ranging from the familiar medium density fibreboard (MDF) to new wood plastic composites.
We understand how to combine the best features of wood with the uniform, predictable attributes of polymers to design materials for specific properties, such as flexibility or rigidity, tunable density, or moisture resistance.

Our key capabilities
Wood fibre products, using world class facilities including a mechanical pulping, screening and cleaning plant and kraft pulp digesters
MDF products and processes (and related composites)
Understanding fibre-water interactions
Fibre characterisation
Resin visualisation – world leading methods of examining fibre-resin interactions using confocal microscopy
Bioadhesives
Biopolymer science
Pulp-plastic hybrid products and processes
Other biocomposites using non-wood natural fibres(e.g. hemp, flax, harakeke)
Commercial developments
A new feedstock for industrial applications of wood fibres: A novel method of converting wood fibres into pellets suitable for extrusion and injection moulding to create wood-fibre reinforced plastics.
Wood fibre-plastics and bioplastic products
Mineral based composites: Fundamental fibre engineering, developing materials based on wood fibres combined with cement or other inorganic minerals.
Commercial opportunities
We have a long history of research collaboration with manufacturers over the full composite range, including glulam, plywood, LVL, OSB, particleboard and MDF.
This expertise is available to improve manufacturing efficiency and product performance, and support the development of new engineered wood products, and improved adhesives, coatings and preservatives for the wood industry.
Current development work includes:
Tuning formulations for companies' own specific applications
Product testing and development of extruded, thermo-formed and injection moulded parts and profiles
Bioplastic products for increased biodegradability or toughness
Services offered
Laboratory-scale manufacture of plywood, LVL, MDF, particleboard, OSB and inorganic-based products.
Mechanical and physical testing of wood-based materials.
Bioadhesive formulation and production.
Preservative formulation, application and compatibility analysis.
Chemical analysis of adhesives and additives.
Evaluation of wood composite preservative efficacy against insects, fungi, and marine organisms in the above-ground, in-ground and marine environments.
Assessment of raw materials for composite production, including lesser known and secondary wood species, wood waste and non-wood materials.
Contact : Elspeth MacRae

KEY CONTACTS
General Manager Manufacturing and Bioproducts