Wood Drying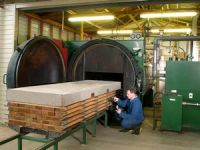 Wood drying is an important technology that plays a critical role in generating wealth from the forest products sector.
Scion leads the world in optimising the drying process for plantation-grown timber and is now opening new horizons for the use, processing and treatment of wood.
Traditionally we have helped wood processors to increase the value of their products through better handling, improved product quality and lower energy costs.
Recently we have taken this specialisation to greater depths by looking deeper into the interaction between water and the lignocellulosic (wood) matrix. These studies in molecular hydrodynamics, achieved using advanced measuring technologies like NMR and the Synchrotron in Australia, offer potential breakthroughs in the way wood is understood and utilised in the future.
The insights gained through this research will enable the development of new high-temperature wood treatment, novel drying approaches for wood and wood-based composites, and heat-based forming/shaping of wood products.
Our key capabilities
Materials science
Chemical and Process engineering
Software development
Moisture sensing
Water usage
Energy management
Technical facilities include a range of small to pilot scale kilns, wind tunnel, a variable pressure drying kiln, a pressurised chamber and environment generator for measuring wood mechanical properties under extreme conditions, a dynamic sorption measurement device, and various drying simulation tool.
Commercial developments
Dryspec2000 is a user-friendly Supervisory Control and Data Acquisition (SCADA) package for centralised control of a battery of timber drying kilns. Windsor Engineering Ltd is the sole licensee.
A new microwave kiln sensor is close to commercialisation.
Thermal modification and acetylation of wood to achieve greater stability and durability.
Commercial opportunities
Scion has a strong relationship with the research consortium Solid Wood Innovation (SWI) funded by FRST and New Zealand and Australian industry.
Key SWI projects include:
Reducing water and energy use during the wood re-wetting phase
Optimising the drying schedule to take account of electricity, energy, and fixed costs etc.
Examining the feasibility of drying wood to higher moisture levels, as part of a scanning and sorting project
Improving monitoring of kiln conditions and endpoints

Other general commercial opportunities include:
Kiln audits of new kilns against performance specifications
General wood drying consultancy, including shrinkage and moisture content problems, thermal modification treatments, heat sterilisation schedule certification
Schedule development of new species and new treatments.
Contact:
Steve Riley
KEY CONTACTS
General Manager Manufacturing and Bioproducts
Scientist & Project Leader, Wood Drying