Timber Engineering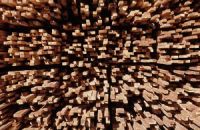 Scion offers timber engineering services devoted to researching the use of timber, timber products and building systems.
The timber engineering laboratory provides a commercial testing and assistance service to a wide range of customers in New Zealand and Australia. The laboratory is not limited to timber and has tested many non-wood products
This research is valuable for underpinning building standards, ensuring market access and enhancing the value of timber in appearance applications.
Timber engineering specialists work in partnership with agencies in New Zealand who audit timber grading practices.
Specialist skills and independent advice are also available in areas related to the structural properties and use of timber, timber fasteners and timber systems.
Our key capabilities
Acoustics
Microwave technology
Timber Design
Timber Grading
Finger jointing and gluing


Scion's research visualises and assesses wood quality properties of individual trees. Mike Riordan from Future Forests Research and Scion scientist John Lee discuss a six-year industry and Government-funded research programme to assess spiral grain, wood density and stiffness. Results will help industry minimise stability and rigidity defects that cause downgrading of wood. From the TVNZ Show: Rural Delivery. Series 8, Episode 36. Aired 10 November 2012.

Commercial developments
Machine stress grading
The A-grader is a machine developed by Scion that uses sound waves to measure timber stiffness. Its advantage is the ability to operate on green or dry, rough-sawn timber, enabling sawmills to sort prior to kiln drying and planning. Currently there are several installations in New Zealand sawmills, many operating at high speed. Across these sites, the A-grader is responsible for significant increases in revenue.
Commercial services
The Timber Engineering laboratory based in Rotorua has an impressive variety of mechanical testing equipment to assist clients in ensuring quality standards.
Testing services –Facilities and expertise are available to a wide range of timber and timber products in accordance with national and international standards
Consulting services – Specialist skills and independent advice is available in areas related to the structural properties and use of timber, timber fasteners, timber systems and timber standards.
Training - We provide training programmes in a variety of areas related to timber engineering, such as timber grading, glue lamination, wood property testing and compliance with timber standards.
Surface coatings - Value added wood products invariably require some type of coating for presentation to the market. We assist manufacturers to understand and improve the interaction between glues, coatings and different types of substrate to ensure an optimum finish on wood products.
Standards – Expert advice to underpin the development of national and international building standards, and codes of practice.
Contact :
Elspeth MacRae
KEY CONTACTS
General Manager Manufacturing and Bioproducts