Environmental Technologies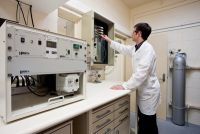 Scion assists with the design of technologies that minimise ecosystem contamination through water recycling, energy reduction, environmental remediation, carbon recovery, and conversion of wastes.
These "clean" technologies offer opportunities for partnering and investment from strategic local and global partners.
Environmental technologies have been identified by international and national policy makers, business development agencies and investors as a key area for focus within a sustainability framework.
We are implementing new technologies in the following areas:
For further information, go to Capability Brochures in our Publications section.