Adding Value to Solid Waste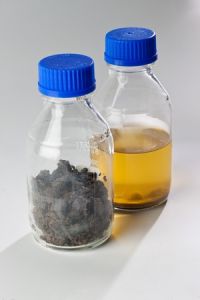 From a purely economic perspective, industrial wastes can no longer be considered "wastes" but rather "untapped resources".
While reducing the amount of waste generated is the first priority, even the most efficient manufacturing processes create surplus materials that end up in waste streams.
The future sustainability of industrial production depends on the smart utilisation of these residues both for adding value and mitigating environmental impacts, such as greenhouse gas emissions.
Scion is developing new processes and technologies to convert waste materials into value-added products.
Key capabilities:
Process and chemical engineering
Bioreaction engineering
Environmental biotechnology/molecular biology
Organic and analytical chemistry
Green catalysis
Wastewater treatment
Life cycle assessment
Land application of biowastes
Organic contaminants in soil
Social research and its integration with biophysical, cultural, and economic considerations to achieve sustainable solutions.
Examples
Pulp and Paper Waste Technologies
Results of the 2013 Waste Minimisation Fund Pulp & Paper Solid Waste Technology Assessment. Supported by the Waste Minimisation Fund, this study contains information on drying, vermicomposting, sludge dewatering, combustion, anaerobic digestion and composting.
TERAXTM hydrothermal deconstruction: Waste 2 Gold
As part of the Waste 2 Gold programme, Scion has developed the TERAXTM hydrothermal deconstruction technology that converts municipal sewage or wastewater into energy and useful products. A large-scale pilot plant trial of the technology is being tested at Rotorua District Council's Wastewater Treatment facility.
Biowastes
Scion has recently formed a partnership with ESR and Landcare Research to create a collaborative research programme entitled "Closing the loop – Rebuilding our soils with biowastes".
Commercial opportunities
Scion is working with municipal authorities to derive value-added products from biosolid wastes and to utilise land application of biosolids in plantation forests.
We are keen to work with investors seeking to develop ways of utilising other solid organic wastes.
Contact:
Rob Lei