Waste Water Treatment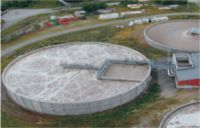 Scion specialises in the biological treatment of waste waters through many years of research and development in the pulp and paper industry.
Effective treatment of these effluents typically requires substantial amounts of energy to power aeration systems and the addition of supplemental nutrients to ensure adequate performance.
We have developed a system known as N-ViroTech that utilises nitrogen-fixing bacteria to decrease chemical costs and lower discharges of nutrients into the environment.
N-ViroTech can be applied in all industries that produce nitrogen-deficient wastewaters, including the pulp and paper, petrochemical and food processing sectors.
Key capabilities:
Wastewater treatment
Bioreaction engineering
Environmental chemistry
Molecular biology
Fluorescent probing techniques
Microscopic identification
Social research and its integration with biophysical, cultural, and economic considerations to achieve sustainable solutions.
Consulting with communities
Effective waste management and utilisation requires strong community acceptance. Scion's social and cultural research focuses on identifying methods for improving community dialogue to achieve sustainable outcomes.
We recently facilitated a large community dialogue project aimed at improving water, wastewater and sewage management to assist Little River, a semi-rural community (including iwi) on Banks Peninsula.
This project is part of an initiate by the broader Christchurch region, the Christchurch City Council and Environment Canterbury to identify, prioritise and select acceptable waste solutions.
Other technologies
TAML - Scion has worked with the Carnegie Mellon University to develop wastewater treatment applications for TAML - a synthetic molecule tetra-amido macrocyclic ligand. This molecule is an environmentally-friendly catalyst which speeds oxidation reactions. Scion identified a method for using iron-TAML molecules to clean the discoloured wastewater discharged from paper mills. We are also developing applications for TAML in processing solid waste.
Land treatment – Land treatment of wastes is a cost-effective means of treating a variety of waste products including sewage, municipal biosolids, and industrial waste. Scion research on nutrients and contaminants is extending the knowledge of the environmental benefits and risks of land applied biosolids. We have a long running research programme focused on land treatment, with results delivered through the New Zealand Land Treatment Collective.

Commercial opportunities
Scion works closely with industrial clients to identify options and technical requirements for improving their wastewater treatment systems.
The aim is to develop sustainable long-term operational plans to allow consistent compliance with resource consent conditions and improved environmental performance.