Injury Prevention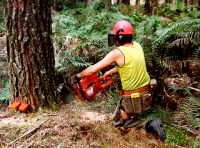 Scion specialises in field-oriented studies that build an understanding of interacting risk factors that can lead to incidents and injuries.
We can adopt an integrated approach, working with social scientists, planners, economists to gain enduring, workable solutions.
Our key capabilities
Task and job analysis
Physical/mental workload analysis
Injury database management/injury epidemiology
Survey design and analysis
Safety culture evaluation and design
Accident analyses and intervention management
Examples of our achievements
Improving quad bike safety in New Zealand
Scion completed the first substantive study into occupational quad bike incidents on farms, a problem that costs ACC $8 million annually and leads to, on average, seven fatalities every year. By interviewing farm owners and workers, we identified ways in which quad bike safety can be improved through modification, training, regulation or reorganisation of farm work and management. These recommendations have been been used to inform subsequent injury prevention efforts by the Agricultural Health and Safety Council, FarmSafe and ACC.
Sawmilling
Musculoskeletal disorders (MSD) are the most prevalent and costly injury in sawmilling. Interventions to address MSD are being demonstrated and discussed on site with individual sawmills during ACC-funded regional visits. These visits are part of ACC's safer industry initiative and are meeting with success as sawmillers receive immediate relevant advice on MSD risks and can discuss intervention ideas with Scion researchers.
Commercial opportunities
Scion offers research, training and consultancy services across a wide range of industries including agriculture, meat processing, wood processing, forestry, construction and manufacturing.
KEY CONTACTS
Project Leader; Rural Fire Senior Scientist, Forest Harvesting