Optimising Land Value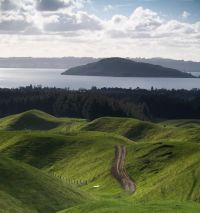 Using the rural landscape wisely and more efficiently is the key to building greater wealth for New Zealand.
Currently, many land use decisions and practices do not always deliver the best possible economic return, and many are not sustainable in the long term.
Scion is developing new systems and approaches for integrated land management across the rural landscape.
We focus not only on integrating forestry and agriculture but also on sustainable systems for non-forestry land uses and "non-traditional" forest products – ecosystem services, energy and carbon farming.

By embedding ecosystem services and bio-product development opportunities into landscape and forestry decisions, New Zealand can capitalise on the multiple benefits of forests and improve environment and soil quality.
Scion's forestry expertise brings a unique capability to understanding and informing wider land use decision making processes. And because it's people that change land use, our portfolio not only includes the biophysical sciences and economics, but also social and cultural aspects.
Our decision support systems and models provide metrics that enable wise land use decisions and promote the creation of forests with multiple benefits.
These benefits range from species diversity, enhanced wood, fibre and biochemical properties, bioenergy production, and carbon sequestration, through to recreation and cultural values.
Our researchers work in the following areas:
For further information, go to Capability Brochures in our Publications section.