Environmental Services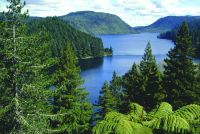 By including forests in the landscape mix, a range of economic, environmental and social benefits can be gained.
These benefits include carbon sequestration, energy, water, biodiversity, erosion control, nitrate mitigation and aesthetics.
Based on our understanding of complex forest ecosystems, Scion provides tools and expertise to help quantify these benefits. This information enables land managers to balance the complex decisions that enable trees and forests to provide the best future outcomes.
Our key capabilities
Forestry
Ecology
Soils & Hydrology
Forest operations
Economics
Systems design
Examples of our research
Biodiversity
Scion's work on biodiversity in pine plantations has been used in support of international debate on the acceptability of plantation forests for FSC certification. This has had a significant impact on the international community's perception of New Zealand forestry and the positive benefits of plantations and contributes to maintaining market access for our forest products.
Erosion
Scion is part of the team developing the National Environmental Standard for Forestry, in which we are looking at categorising New Zealand in terms of risk of erosion, the required management activities under the RMA and then developing one national standard, rather than every local council having different standards as at present. This variation is seen by land owners as a significant impediment to tree planting, and streamlining the process will encourage more erosion control planting to take place.

Nitrate leaching
A new model developed by Scion predicts leaching losses following a land use change from various agricultural starting points to forestry. Designed to work well with Overseer and other agricultural models, it will show how tree crops will reduce nitrate leaching and hence improve water quality.
Opportunities
Scion's modelling capabilities enable land owners and investors to make decisions on, for example, carbon forestry, as well as managing land for environmental and conservation values using all types of woody vegetation, including indigenous and plantation forests.