Soil science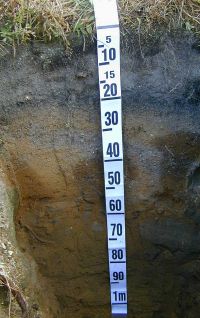 At Scion we are effectively helping to create productive forests in perpetuity through good stewardship of the soil for future generations, and management practices based on a sound understanding of soil processes.
Understanding soil properties and being able to measure and monitor key indicators of quality, such as nutrient pools, is not only an important management tool but also an important part of assessing and demonstrating the long term sustainability of forests and forestry.
This is an exciting area of science as we begin to realise the complexity of soil biological processes and the dynamic interactions between microbial communities, biomass, nutrients and forest productivity.
Our key capabilities
Soil science – biology, chemistry, physics and pedology
Remote sensing
Analytical techniques and tools
Hydrology
Resource assessment
Geomatics
Examples of our research
Defining sustainable forest management
Scion has identified the key indicators of forest productivity for New Zealand based on data from trials established throughout the country. The need for these indicators arose from New Zealand's commitment to developing sustainable forest management practices as evidenced by our participation in international forestry agreements such as the Montreal Process and the forestry sector's adoption of forest certification.
Regular measurement of productivity indicators on any given forest site will show whether management practices are maintaining, enhancing or reducing productive capacity. The key soil indicators of productivity for radiata pine are soil carbon to nitrogen ratio, total soil nitrogen, total soil phosphorus, depth of top soil and porosity.
Nutrient balance model
This model takes the nutrients in a soil system and then 'grows' a crop, allowing users to predict nutrient uptakes, accumulation in the soil, leaching losses and other changes over the rotation, so they can make management decisions such as when to apply fertiliser.
Microbial community descriptions
Scion has been looking at promoting bacteria in the soil that will naturally stimulate plant growth and is examining microbial communities under long term experiments to see if these can be linked to increases or decreases in plant growth.
Soil carbon
We have developed methods of measuring soil carbon stocks in support of New Zealand's climate change obligations under the Kyoto Protocol.
Opportunities
Scion is building a fertiliser decision tool that will allow people to predict and plan their fertiliser needs through the rotation of a forest.
We are also investigating new fertiliser approaches, using microbially-based soil modification instead of chemical fertilisers.
At different stages of their life forests need different nutrients. Some soils have large amounts of nitrogen in them, but that doesn't necessarily reflect in high productivity in the forest. We are exploring whether, instead of pouring on urea, the microbial population can be used to release nutrients for the trees just as they need it.