Social Values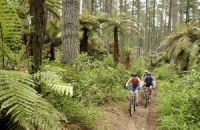 Sustainable management of New Zealand's land-based resources, such as forests, is reliant on understanding the values New Zealanders hold for them.
Scion is a leading provider of research which aims to identify those values and relate them to international agreements, such as the Montréal Process.
New Zealand is one of 12 member countries of the Montréal Process, an initiative which provides internationally agreed criteria for the conservation and sustainable management of temperate and boreal forests, comprising 60 percent of the world's forests.
Our work aims to benchmark Montréal Process criteria against locally generated values, to inform national and international policy makers and other interested parties, and to provide opportunities for local communities to engage in the Montréal Process.
We also undertake social science research within selected communities in areas such as sustainable biowastes management, and rural fire and biosecurity management, integrating our findings with environmental and economic research.
We work in the following areas:
Defining sustainable forest management.
Assessing the local context for sustainable forest management - physically, environmentally, socially, culturally and politically.
Conducting forest values workshops for managers, public sector policy makers, and forestry users.
Contributing to the International Review of the Montréal Process.
Integrating knowledge of environmental risks arising from the application of
biosolids in different land management options with social, cultural and economic considerations.
Researching community resilience and recovery following wildfires, fire danger risk communications, and understanding fires caused by people and their mitigation.
Determining the human dimensions of biosecurity in New Zealand.