Kwasi Adusei-Fosu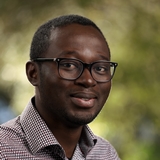 Contact
ORCID:

0000-0001-8834-0947

Team:

Ecology and Environment

Role:

Team Lead, Pathogen Ecology and Control
About
Dr Kwasi Adusei-Fosu is a Forest Pathologist and currently the Team Lead for Pathogen Ecology and Control at Scion. He is in the role as Forest Disease Control Scientist. Kwasi worked as a Pathologist in England, Canada, and New Zealand on soil-borne and foliar pathogens especially for oomycetes and fungi over the years. He has researched into applying advanced tools for molecular detection/diagnostics of pathogens, resistance screening, molecular characterisation/quantification of significance to forestry sector, biocontrol against plant pathogens and the use of other pivotal alternative control tools against pathogens. Kwasi was privileged to be part of the pioneering team that researched into the control of myrtle rust in New Zealand during the first incursion. He researched the use of targeted fungicides and biocides on selected high priority and iconic New Zealand tree species. He played a critical role in the myrtle rust research to find innovative, practical technical solutions and design limitations of current aerial and ground-based pesticide application systems. He led, designed, implemented and carried out experimental control trials. Presently, he is researching alternative control tools for Phytophthora pluvialis, Dothistroma septosporum causal organisms for Red Needle Cast and Dothistroma for the Resilient Forests Programme. At Scion, he is currently exploring opportunities to research into other emerging areas of interest and relevance to forestry sector. His research experiences with the Government, Industry and Academia have all contributed to his versatility and better integration into different research programmes with relevance to his skill set and background.
Qualifications
PhD (Plant Pathology) University of Nottingham, UK - 2017
MPhil (Plant Biotechnology) University of Ghana - 2010
BSc (Honours) (Agriculture) University of Cape Coast, Ghana - 2007
Research capabilities
Identifying tools and management options to address forest-trees/plant health threats, both established and invasive plant pests
Advanced molecular tools for plant pathogen or disease identification, detection/diagnostics, quantification and characterization (LAMP, PCR, qPCR, Gene Expression, Sequence Analysis)
Fungal genomics and pathogenesis
Epidemiology of fungal and phytophthora pathogens
Application and use of essential bioinformatics tools
Resistance screening
Fungicide or biofungicide efficacy/evaluation and application techniques (ground-track sprayer and aerial-UAV)
Strong knowledge in identification of bio-control agents against plant pathogens
Career highlights
2021-Present: Team Leader, Pathogen Ecology and Control
2019-2021: Post Doctoral Researcher, Plant Pathology University of Guelph, Canada
2020: Bio-Protection Research Centre Science National Award (Team Award), New Zealand
2019-Present: Member, Canadian Phytopathology Society, Canada
2019: Ministry for Business Innovation and Entrepreneurship (MBIE)-Curious Minds Funding, New Zealand
2018-2019: Post Doctoral Research Scientist, Forest Protection Team, Scion, New Zealand
2018-Present: Member, New Zealand Plant Protection Society
2017-2018: Research Assistant, Vineland Research & Innovation Centre, Canada
2017: Awarded as A Commonwealth Scholar by UK Commonwealth Scholarship Commission
2016 Aug-Dec: Research Technician, School of Biosciences, University of Nottingham, UK
2016: The British Society for Plant Pathology (BSPP) Travel Award, UK
2016: International Society of Molecular Plant-Microbe Interactions (ISMPMI) Travel Award, USA
2016: The Dr. D V Crawford Memorial Travel Award, University of Nottingham, School Biosciences, UK
2015: The Carr Scholarship Award, University of Nottingham, School of Biosciences, Plant Science Division, UK
2013-Present: Member, British Society for Plant Pathology, UK
2013: Commonwealth Scholarship Award, UK
2013: Vice Chancellors Research Excellence Award, University of Nottingham, UK
Selected papers
McDonald, M.R., Ives, L., Adusei-Fosu, K. and Jordan, K.S., 2021. Ditylenchus dipsaci and Fusarium oxysporum on garlic: one plus one does not equal two. Canadian Journal of Plant Pathology, pp.1-11.
McDonald, M.R., Collins, B. and Adusei-Fosu, K., 2021. Soil amendments and fumigation for the management of Fusarium wilt of bunching spinach in Ontario, Canada. Crop Protection, 145, p.105646.
Pathan, A.K., Cuddy, W., Kimberly, M.O., Adusei-Fosu, K., Rolando, C.A. and Park, R.F., 2020. Efficacy of Fungicides Applied for Protectant and Curative Activity Against Myrtle Rust. Plant disease, 104(8), pp.2123-2129.
Adusei-Fosu, K. and Dickinson, M., 2019. Development of pathogenicity assay and characterization of Fusarium oxysporum f. sp. elaeidis (FOE) based on Secreted In Xylem genes and EF-1α. Journal of Plant Pathology, 101(4), pp.1013-1024.
Adusei-Fosu, K., Dickinson, M. and Yankey, E.N., 2019. AFLP as a fingerprinting tool for characterising isolates of Fusarium oxysporum f. sp. elaeidis causal organism for fusarium wilt disease of oil palm in Ghana. Journal of Plant Diseases and Protection, 126(6), pp.575-584.