4D Printing Interactive Workshop
Start Date
Apr 12, 2023 10:00 am
End Date
Apr 12, 2023 1:00 pm
Duration
3 hours
Description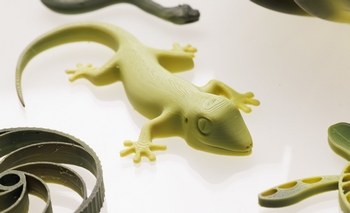 4D Printing Interactive Workshop

Wednesday 12 April 10am - 1pm
Rotorua Library, 1127 Haupapa Street, Rotorua
Koha
Suitable for 11+ years
Booking required: https://libmon01.rdc.govt.nz/monitoronline/app/#!/shops
A team of scientists at Scion have developed an innovative flexible 4D printing filament, known as Morph, that changes colour with heat.
The concept of 4D printing is similar to 3D, where both print three dimensional objects (using length, width and height), but 4D also features an extra dimension that changes over time. So, in Morph's case, its thermochromic properties means it changes colour with temperature. It is the only one of its kind on the market, thanks to industry partners, Imagin Plastics who have since commercialised the product.
Morph is made from a flexible biodegradable polyester. To date, the Scion team have successfully printed a number of objects, including phone cases, animals such as an octopus and gecko, as well as moveable objects like stretchy bracelets. The printing filament is expected to be popular with users of home 3D printers, with its true potential in the hands of whoever holds it.
Now the team behind Morph is keen to introduce the concept to Rotorua's 3D printing hobby newbies and enthusiasts – a way of giving back to and supporting the local community.
A launch event will be hosted at Te Aka Mauri l Rotorua Library on 12 April 2023 (10 am-1 pm) by Scion and Imagin Plastics, with Scion holding an interactive workshop with participants taking part in the creations.
Participants will then be invited to take part in a competition using Tinkercad, an easy-to-use 3D CAD design tool, which will run for four weeks. The best creation will win the maker an induction at Scion where they can print their design, meet the scientists, and visit the lab.
Part of the April School Holiday Programme.