Genomic selection for alternative species adds pace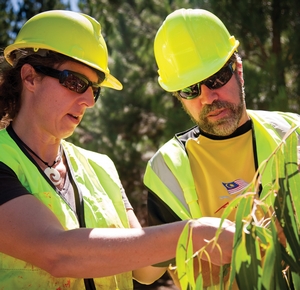 Scion's Forest Genetics Team is building a number of new genomic technology platforms to support the genetic improvement of indigenous and alternative forest species. Genomic selection of forest trees has not previously been applied in commercial platforms in New Zealand.
"The new platforms will build on our experiences with radiata pine to introduce genomic selection into breeding programmes for these species," says Science Leader Dr Heidi Dungey. "Genomic selection increases the rate of genetic gain and accelerates the breeding cycle by using DNA markers to predict tree characteristics and genomic breeding values.
"This makes it possible for tree breeders to select for multiple traits early in a breeding cycle and removes the need for expensive, long-term field trials.
"We are developing one such platform in collaboration with AgResearch, which will be to international standards. This will include the collection of relevant sample populations, testing experimental protocols, and developing collaborations to generate genomic resources, such as genome sequences and genomic breeding values."
Scion has been developing genomic resources since 2012, building on more than 40 years of research into alternative forest species. Our geneticists have successfully developed DNA extraction methods for a number of recalcitrant tissues and species that are included in our emerging indigenous forestry portfolio.
"As part of our collaboration with AgResearch we will be testing new 'genotyping by sequencing' technologies," says Heidi. "This will involve the creation of 'skim' genomes for
Eucalyptus regnans
,
fastigata
and
nitens
. We're hopeful this new technology will create a more economical genomics model that will benefit breeding programmes.
"This year, we have already undertaken extensive phenotyping to initiate this in
E. nitens
."
Scion's Forest Industry Informatics Team has helped develop a sophisticated data storage and management system capable of handling the expansive datasets now being generated by these new genomic technology platforms. The new database is capable of integrating phenotypic data with the new waves of genomic information. Integrating the vast array of phenotypic and genotypic data in these databases makes it possible to create virtual datasets and to explore genetic-environment (GxE) interactions.
Genomic selection for the alternative species, including eucalypts and Douglas-fir, is currently aligned to the new MBIE Specialty Wood Products Partnership. This Future Forests Research-led programme aims to create a high-value wood products industry from planted forest species other than radiata pine.
This seven-year research programme represents a total of $13.8 million investment comprising $710,000 per annum from MBIE's Biological Industries Fund, $710,000 per annum from the forestry industry, $550,000 per annum from Scion Core Funding and support from the School of Forestry, University of Canterbury.
Collaborators / Partners: FFR, AgResearch, University of Canterbury
Investment: MBIE, Scion Core, FFR
Short url: www.scionresearch.com/ar15genomicselection