Careers at Scion
Working at Scion
Discover a career with Scion that creates real impact for Aotearoa New Zealand.
Be part of a team of more than 300 science and corporate professionals driving innovation and growth from New Zealand's forestry, wood product and wood-derived materials and other biomaterial sectors.
Current vacancies
See our current vacancies, register for upcoming job alerts, or complete an expression of interest on the Science New Zealand website.
Scion is one of seven Crown Research Institutes that carry out research for the benefit of New Zealand. Since its origins as the Forest Research Institute in 1947, Scion has created economic value and positive social and environmental outcomes for our communities. Today, we're focused on helping lead New Zealand's transition to a circular bioeconomy and achieve a net-zero 2050 and beyond.
Located in Rotorua, Christchurch and Wellington, our people thrive in a working environment that is diverse, empowering, innovative and inclusive.
Benefits of working at Scion
Scion is committed to creating a work environment that is diverse, empowering, innovative and inclusive.
Our roles
From UAV pilots and engineers to field and laboratory technicians and forest scientists, Scion offers an exciting career that unlocks the power of trees. Together, we are at the forefront of innovation, leading New Zealand's transition to a circular bioeconomy.
For current vacancies and to apply, visit the Science New Zealand website.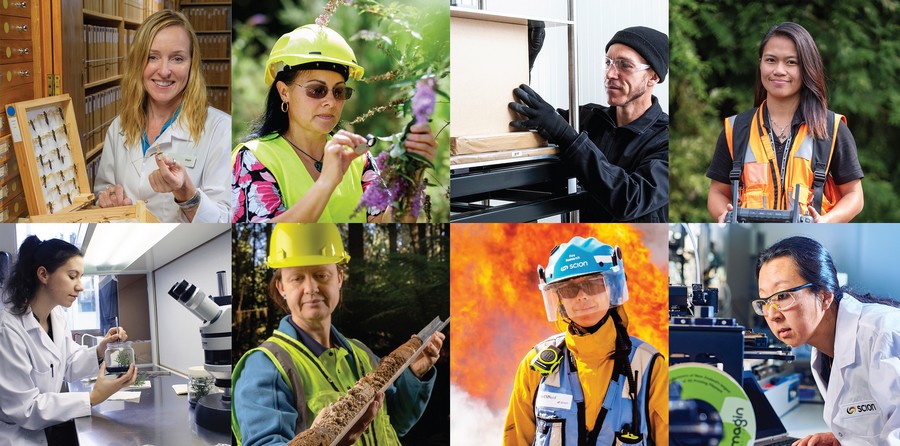 Science
Our science capabilities are organised into eight research groups:
Chemistry and Physics
Data and Geospatial Intelligence
Ecology and Environment
Economy and Society
Forest Genetics and Biotechnology
Materials, Engineering and Manufacturing
Plant Development and Physiology
Te Ao Māori
From these eight research groups, highly skilled individuals come together on projects across with our three impact areas:
Forests and Landscapes
Forests to Timber Products
Forests to Biobased Products
We call this the matrix structure, and it unlocks opportunities and diversity across your science career.
Apply your expertise to research areas that interest you and develop new skills in fields you may never have explored before.
Corporate
Working as one team, our corporate professionals are considered the enablers of Scion. They are the driving force behind our science research programmes and bring impact out of the lab and into our communities.
Roles include:
Administration
Facilities
Finance
Information and technology
Innovation
Knowledge centre
Legal
Marketing and communications
People, culture and safety
Project management
Research ideation office
Stores
Students
We run a student summer programme each year which is open to all New Zealand resident students. Applications are open from July to September through Science New Zealand.
Celebrating our people
Recent awards recognising the excellence of our people and their work:
Chemist Eva Gaugler and House of Science New Zealand team: Royal Society of Chemistry's Horizon Prize for Education 2022. Read more.
Principal scientist Dr Brian Richardson: New Zealand Plant Protection Society's medal for championing forest protection for nearly four decades. Read more.
Entomology team lead Stephanie Sopow: Peter Molan trophy for Exceptional Contribution to Apiculture. Read more.
Scion team and partner AgriSea: KuDos Awards – Primary Industries Award. Read more.
Scion team: Australasian Emergency Media and Public Affairs (EMPA) Awards – joint winner of the Excellence in Communication award – Scion. Read more.
Principal Researcher Dr Mike Watt: Science New Zealand Awards – Individual/Lifetime Achievement. Read more.
Biopolymer scientist Dr Angelique Greene: Science New Zealand Awards – Early Career Researcher. Read more.
Taryn Saggese, Mark West, Alyesha Candy, David Hooks, Diahanna O'Callahan, Christophe Collet, Sumanth Ranganathan, and Gareth Lloyd-Jones: Science New Zealand Awards – Team Award – CVC Vaccine Biotech Team. Read more.
A Myrtle Rust consortium that includes Scion's myrtle rust experts: Federated Farmers 2022 Primary Industries New Zealand Awards – Guardianship and Conservation (Kaitiakitanga) Award finalists.