Careers at Scion
Working at Scion
Scion is proud to offer talented and motivated individuals from around the world a unique opportunity to pursue fulfilling careers that contribute to enabling the future of New Zealand.
Our staff, of approximately 320 people, enjoy a vibrant working culture where creative minds flourish in delivery of top-class science, technology and support services.
The majority of our staff work at our Rotorua campus, which is alongside the famous Whakarewarewa Forest
Scion is an EEO (Equal Employment Opportunities) employer and actively seeks to promote diversity and inclusion in the workplace.
You can see parts of our campus and 'meet' some of our staff by viewing our videos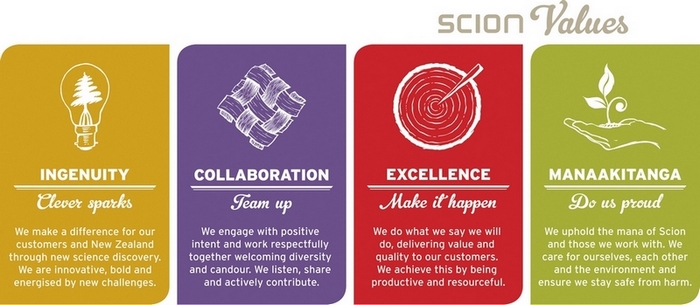 Our values video describes how we work at Scion.
Sound track: "This is everything" by Josh Woodward, www.joshwoodward.com
Support benefits at Scion include
For staff and their families an Employee Assistance Programme that provides for free counselling services
Excellent training and development opportunities
Life and disability insurance for all permanent staff
Work/Life balance initiatives including on-site showers; returning to work incentive payment for takers of parental leave; flexible working arrangements; bring your dog to work; bike sheds and sports sponsorship
Free car parking
Great onsite café
See more benefits of working at Scion
Current vacancies
All Scion's vacancies are listed on the Science New Zealand careers website for Crown research institutes. Here also you will find answers to frequently asked questions and a guide to the application process.
Scion vacancies. You can also register here for upcoming job alerts, and complete an expression of interest.
Opportunities for students
Scion frequently runs a student summer programme which is open to all New Zealand resident students. More information about this programme will be available by contacting our People, Culture & Safety team.
We also support students who need to complete an internship as part of their study programme and we welcome students who can obtain funding to support them during this time. Please apply through the careers website if you would like to express interest in applying for an internship.
In collaboration with New Zealand universities, Scion supports Masters and PhD students in their applications for scholarship funding. Scion can also provide projects and supervision for top students. For more information email our People, Culture & Safety team.