Forest health diagnostics
Scion's diagnostics team supports the early detection of new pests and pathogens on woody plants in New Zealand. We accept samples from all tree species, including those from production forestry, native forests and amenity plantings, as well as from woody shrubs.
Our diagnostics team includes pathologists, entomologists, botanists and molecular scientists. We focus on identification and diagnosis, rather than treatment. A good sample is helpful for a successful identification. The type of sample needed will depend on the type of pest or pathogen present. For pests, dead material may be suitable. For pathogens, it is important that samples include the margin between live and dead plant tissues. Please refer to our sampling instructions, and if you have any questions, please email fhdiagnostics@scionresearch.com or call 07 343 5513.
Fees may apply.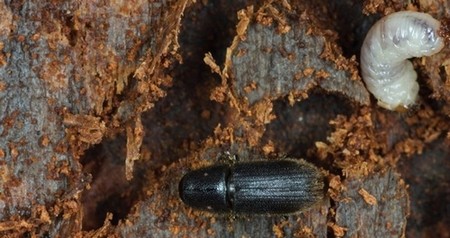 Samples should be sent along with a sample submission form to:
Post:
Forest Health Reference Laboratory
Scion
Private Bag 3020
Rotorua Mail Centre
Rotorua 3046
Courier:
Forest Health Reference Laboratory
Scion
49 Sala Street
Rotorua 3010
Or hand-deliver:
Scion Reception
49 Sala Street
Rotorua
During business hours 8:00 am - 5:00 pm, Monday to Friday.
If you think you have found a new to New Zealand insect or pathogen, ring the Biosecurity New Zealand Pest and Disease hotline - 0800 80 99 66.