The circular bioeconomy
Centred around people and nature, the circular bioeconomy gets the most value out of renewable resources while minimising waste. It is an economic model that will see the environment, economy and communities prosper.
Through science, research, and innovation, Scion is working across sectors with industry, government and iwi to help New Zealand's transition to a circular bioeconomy and achieve a net-zero 2050.
The challenge and opportunity of our generation
Our world is facing unprecedented challenges that require paradigm shifts in our thinking and approach.
The climate emergency and biodiversity crisis are signals that we must change the way we live. As the world moves towards a population of 10 billion people, it is evident that our finite resources will not sustain us into the future. We must transition away from fossil and towards renewable resources.
This is the challenge of our generation. But also, our greatest opportunity.
Shifting the economic model
Our current linear model assumes infinite resources for production and creates low-value waste that is difficult to recover. It degrades natural systems and pollutes our planet.

A circular model can be restorative and regenerative by design. It can maintain value by keeping resources in use and could enable our growing population to live well, in harmony with a planet that is restored and healthy.

The circular bioeconomy explained
The circular bioeconomy borrows from nature and gives back by creating a closed-loop system where there is no such thing as waste.
This concept is closely aligned with Te Ao Māori and many indigenous cultures around the world. The practice of kaitiakitanga (guardianship) is intrinsic to the way Māori interact with whenua (land), wai (water) and te taiao (the environment).
Transitioning to this economic model will help New Zealand achieve its emissions targets of net-zero by 2050 and beyond.
For businesses, it requires doing things differently. But many are realising there is more prosperity to be secured in a responsible process that prioritises value over volume.
Rather than a linear economy, it is a sustainable resource economy where products are designed to last and the by-product from one process is used for another.
It gets the most value out of renewable biological resources such as plants, animals and microorganisms. It also ensures fossil resources such as coal and crude oil stay in the ground, or geosphere, by utilising renewable carbon from the biosphere, atmosphere and technosphere.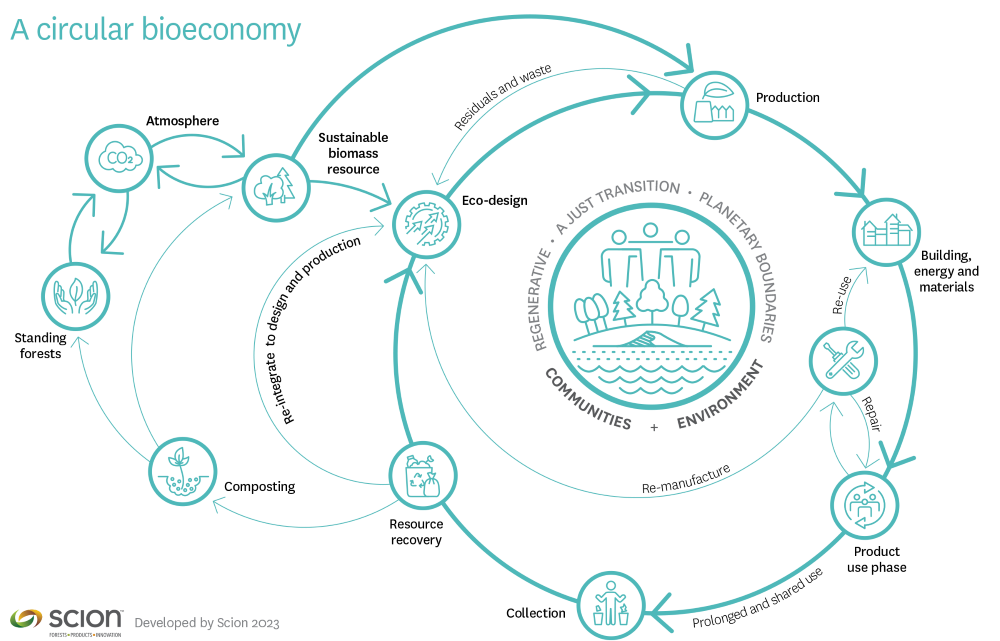 Circular bioeconomy principles
This holistic economic model addresses social, environmental, and economic challenges while at the same time unlocking unprecedented opportunities through its core principles:
Communities and environment: By placing communities and the environment at the heart of the economy, we will see a focus shift away from mitigating the negative impacts of economic activity, and towards designing better for all - from the outset.
Planetary boundaries: A set of nine boundaries establish the limits of our human activity and the impact it has to the natural balance of our planet. Surpassing these limits may lead to irreversible damage.
A just transition: Moving from a linear to a circular bioeconomy will be a big shift. Just transitions will bring people together to transform disruptive change into positive change, ensuring equal opportunities for all in this new environment.
Regenerative: With these principles combined, an economic system can be created that goes beyond sustaining and towards regenerating our planet.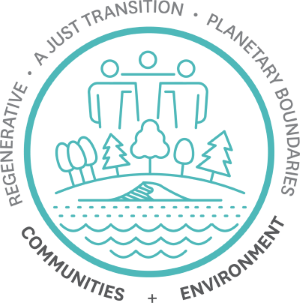 The opportunity
Nearly 60 countries have national bioeconomy strategies, and more are expected to be unveiled in 2023.
It is believed bioeconomies contribute as much as US $30 trillion to the global economy annually.
New Zealand's circular bioeconomy is a NZ $30 billion economic opportunity that will provide a mosaic of activity for regional New Zealand to thrive in, through emerging bio-based manufacturing, and the creation of new high-value products from what we currently consider waste.
New Zealand's abundance of sustainable biomass from the land and sea is one of our greatest natural advantages and could place us at the forefront of the circular bioeconomy.
"Anything that can be made from fossil fuels today can be made from trees in the future." - Stora Enso
In addition to using carbon from the atmosphere, biosphere and technosphere, we can replace carbon-intense materials and products with sustainable alternatives to achieve a net-zero 2050.
The transition to a circular bioeconomy is not only a solution to the climate change challenge of our generation. It is also the key to unlocking environmental, social and economic opportunities for generations to come.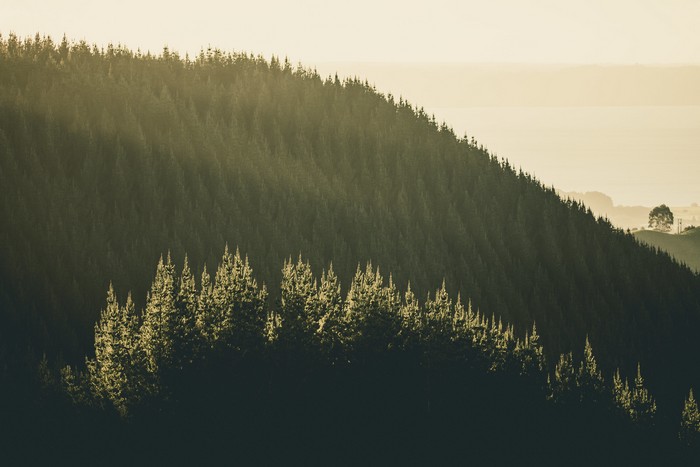 Scion is helping lead the transition
At Scion, we know that forests are a vital means of tackling climate change and will be at the heart of a low-carbon biological-based future for New Zealand. Our strategy to 2030 defines our pathway to achieve net-zero 2050.
In collaboration with industry, government, iwi, universities, research institutes, and international organisations, Scion operates at the intersection of science and technology. We form meaningful, long-term partnerships to help create the greatest impact for New Zealand.
Unlocking the power of forestry, wood products, wood-derived materials, organic waste and other biomaterials, we are devising new ways to replace fossil energy with renewable energy and replace carbon-intense materials and products with sustainable alternatives. At the same time, we focus on exotic and indigenous forests planted primarily for standing-forest benefits.
Exploring all the benefits to society that can come from a circular bioeconomy, our work is implemented across three impact areas.
Three impact areas
Forests and landscapes

Growing healthy, resilient forests that are planted primarily for their standing forest benefits.

Forests to timber products

Developing products, manufacturing, high-value trees and healthy resilient forests that capture an increasing share of the global, high-end market for timber.

Forests to biobased products

Developing products, processes, manufacturing, trees, other biomaterials and healthy, resilient forests to replace petrochemicals and non-sustainable materials.
Forestry and biomanufacturing play a critical role in a low-carbon future:
Removing carbon from the atmosphere

Carbon sequestration by vegetation is currently the only technology to reduce and offset the carbon that we have already put into the atmosphere. Forestry will help achieve New Zealand's net-zero target by removing this CO2 and storing it in biomass.

Reducing the amount of new carbon entering the atmosphere

Reducing our dependence on fossil fuels and creating renewable alternative products will accelerate our progress to net-zero. Together with other primary industries, forestry enables sectors like construction, biomanufacturing, bioenergy and biotechnology, to substitute products, fuels, and energy currently made from fossil fuels with renewable wood and fibre-based alternatives.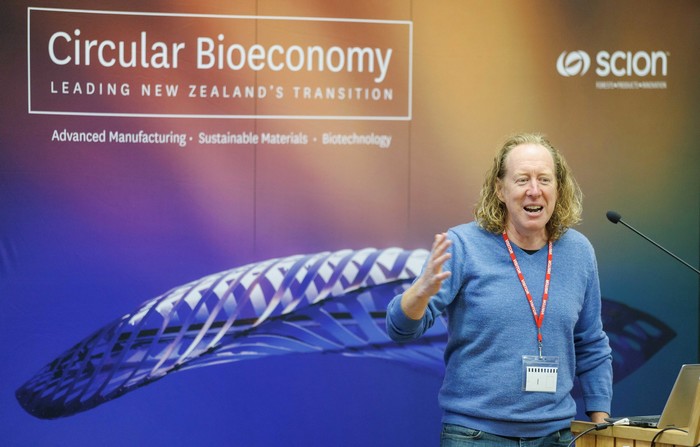 Benefits for New Zealand
A circular bioeconomy in action can unlock the following benefits for society:
Environmental
Lower greenhouse gas emissions
Biodiversity conservation
Soil erosion mitigation
Improved water flows and quality
Flourishing ecosystems
Responsible resource use
Healthy soils
Social
Climate change resilience
Health and wellbeing
Food security
Empowered communities
Rural and regional job growth
Just transitions
Economic
Job creation
Employment market diversification
Sustainable economic growth
Stronger local economies
Onshoring of new and existing industries
Future proofing existing industries and sectors
Enabling new and emerging industries
New and existing infrastructure investment
Supply chain risk mitigation
Increased productivity
Examples of the circular bioeconomy in action
AgriSea – works across the entire ecosystem providing nutrients to soils to improve the overall soil biology for better plant outcomes.
Cetogenix – addresses value recovery, environmental impacts and processing costs of organic waste streams by designing retrofittable systems that turn organic biomass feedstocks into energy.
Chatham Islands – creating self-sustainability and restoring landscapes by bringing together the people, environment, culture and economy.
Ecogas – redirects food waste away from landfills and uses it to create sustainable energy, biogas and biofertiliser.
Indigenous fibres – connecting the value chain of indigenous plant fibre growers, processors and end products.
Usedfully – turns unwanted clothing textiles into fibres that can be used to reinforce roading surfaces.
Wilson and Ross – produce biodegradable pots, made from biopolymers and a biofiller, which offer an alternative to the estimated 350 million plants in plastic pots produced by New Zealand nurseries each year.
Tauranga City Council building – New Zealand's largest timber office building that puts sustainability at the forefront of design.
Zespri – working with Scion to make all of its packaging 100 percent reusable, recyclable or compostable by 2025.