Location & contact
Head Office Rotorua
Ngāti Whakaue is the local iwi (tribe) on which Scion's Rotorua campus sits. The relationship with the local iwi was established in principle during the early forestry trials on Te Papa Tipu in 1898. In 2008, the land relationship between Scion and all local iwi and and hapū (sub tribes) was formalised through covenant.
Te Papa Tipu Innovation Park is set against the magnificent backdrop of Whakarewarewa Forest (also known as The Redwoods). The 114 hectares of park-like grounds contain our main campus, laboratories and research nursery plus other businesses.
The three-storey wood framed building 'Te Whare Nui o Tuteata' is Scion's front door for business visitors and the public. All are invited to experience the building's unique structural design, discover innovative technologies and science achievements in the interactive exhibition area and enjoy refreshments from Eastwood café.
Scion
Te Papa Tipu Innovation Park
Tītokorangi Drive (formerly Long Mile Rd), Rotorua, 3010
Private Bag 3020, Rotorua 3046
New Zealand
Telephone: +64 7 343 5899
Note: Stores deliveries continue to go to 49 Sala Street, Rotorua
Opening hours
Scion reception is open during office hours 8:00am - 5:00pm Monday to Friday.
Eastwood café is open Sunday to Thursday 8:00am - 3:00pm; Friday and Saturday 8:00am - 8:00pm.
The science exhibition is open Monday to Friday, 8:00am - 5:00pm, and weekends 8:00am - 8:00pm.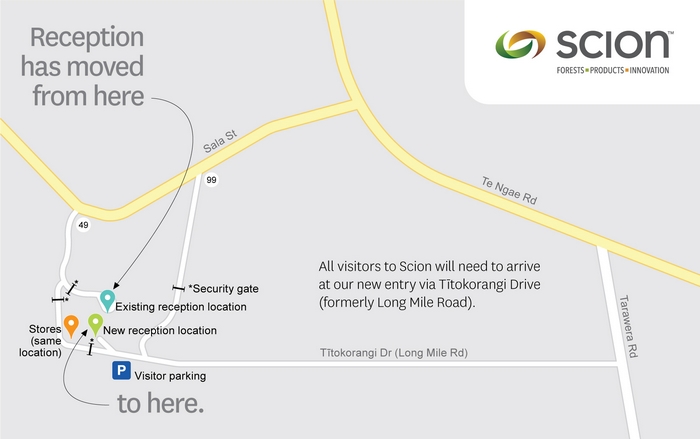 Christchurch
Scion
10 Kyle Street
Riccarton, Christchurch 8011
PO Box 29237
Riccarton, Christchurch 8440
New Zealand
Telephone: +64 3 363 0910
Scion, Christchurch, location map
Wellington
Scion
Level 6
17-21 Whitmore Street
Wellington Central 6011
PO Box 10345, The Terrace
Wellington 6143
New Zealand
Telephone:
General Enquiries +64 7 343 5899
Director of Strategic Relationships +64 4 472 1528
Other contacts
Publications: publications@scionresearch.com
Technical website issues: webmaster@scionresearch.com
Postmaster: postmaster@scionresearch.com
Inform the domain manager of nuisance email: abuse@scionresearch.com
Privacy issues: privacy@scionresearch.com
Complaints: complaints@scionresearch.com
All Scion staff can be contacted by email using the following format: firstname.lastname@scionresearch.com
You may also contact us using our online form.