Strategy to 2030
Right tree. Right place. Right purpose.
We believe the power of forests can transform the way we live.
Our strategy to 2030 enables Aotearoa New Zealand to benefit from both global and local challenges and opportunities of our changing world.
By growing the right tree, in the right place for the right purpose, we can achieve a net-zero carbon future.
This strategy is enabled through partnerships and guided by our core purpose to drive innovation and growth from New Zealand's forestry, wood product and wood-derived materials and other biomaterial sectors, to create economic value and contribute to beneficial environmental and social outcomes for New Zealand.
Our mission:
Enhancing New Zealand's prosperity, well-being, and environment through trees.
Kia piki te ora, te taiao me te whai rawa o Aotearoa mā te ngāherehere.
Looking to the future
We know that forests will be at the heart of a low-carbon, biological-based future New Zealand.
We know too that forests will offset greenhouse gas emissions on a scale unmatched by any current technologies.
And we know that renewable materials derived from trees will replace those from fossil fuels.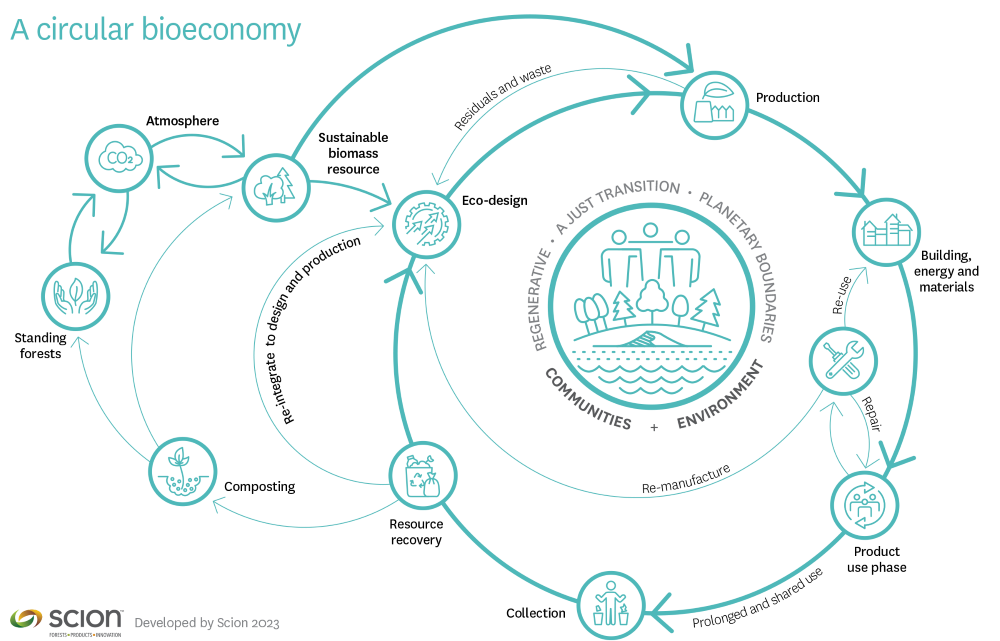 Scion brings an underlying strength to the entire forest industry, and the value chain we help create is more critical now than ever before to realise prosperity from trees in the future.
2050 aspirations
Our strategy provides the stepping stones to achieve our 2050 aspirations for New Zealand:
10-fold increase in GDP from forests and manufacturing
Zero carbon emissions
Erodible land planted in permanent forests
Water quality issues from land use mitigated
Sustainable communities and economies in all regions
High OECD household net wealth ranking
A top five ranking in OECD better life index
The future as we see it is one where regions are thriving through their expanded and enriched planted forests. Trees will make up more of the rural and urban landscapes as major contributors to mitigating climate change and protecting and enhancing our environment.
High-value construction and appearance timber products will meet domestic and international demand. Timber will be the norm in multi-level construction and our cities will be increasingly sustainable in character and design. New materials and energy derived from trees will have displaced oil-derived products. New biobased industries that use wood waste-derived materials will have replaced those that relied on imported chemicals and fuels.
Three impact areas
Forests and landscapes

Growing healthy, resilient forests that are planted primarily for their standing forest benefits.

Forests to timber products

Developing products, manufacturing, high-value trees and healthy resilient forests that capture an increasing share of the global, high-end market for timber.

Forests to biobased products

Developing products, processes, manufacturing, trees, other biomaterials and healthy, resilient forests to replace petrochemicals and non-sustainable materials.