Tōtara's economic potential for Northland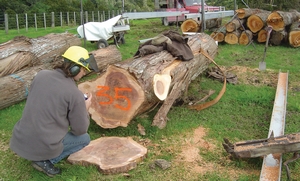 A new forestry industry based on New Zealand tōtara could provide a substantial lifeline to a struggling Northland economy.
A multi-disciplinary team of Scion scientists has been working with Ministry for Primary Industries, Northland Inc., Tane's Tree Trust (TTT) and Northern Tōtara Working Group (NTWG) to explore the feasibility of establishing a new industry based on the extensive tōtara resources growing on private land.
An earlier study by TTT and NTWG suggests there may be over 100,000 hectares of tōtara (
Podocarpus totara
D.Don) regenerating in the presence of grazing, in privately owned forest and scrublands in the region. These resources have, until recently, been largely ignored and considered of little worth.
The region could benefit from the creation of a sustainable wood products industry developed around this resource provided the commercial opportunity can be properly developed and demonstrated. Such an industry would involve the development and marketing of high-value wood products from tōtara to replace imported products, and the generation of new business opportunities along the value chain. A preliminary business case shows a potential value of at least $11 million by 2017 and $110 million by 2021, based on timber values alone. This could leverage subsequent investment into expanding the tōtara resource.
"Due to the advanced age of a significant portion of the regenerating forest, payback from initial investment would be more or less immediate," says Peter Berg, Chair of Tane's Tree Trust. "What's more, forestry with native species will be based upon continuous cover forestry practices. This means that harvesting will involve individual stems but the forested landscape will be permanent."
Tōtara is a resilient species able to establish and grow vigorously in various soil types under a variety of climatic conditions, and is also plentiful in other parts of New Zealand. It produces hard, straight grained wood and durable heartwood that is inherently resistant to fungal degradation when it has reached an appropriate age and diameter. Its versatility and properties give the timber considerable economic value.
The majority of the few remaining old-growth stands of tōtara are protected, however, the species' ability to thrive under a range of conditions has meant individual trees and stands have readily regenerated on farmland.
Previous research conducted by Scion has focused on both protecting and utilising tōtara as a commercial resource. While the growth rate of tōtara is unlikely to reach that of fast growing exotic species such as radiata pine, the increased value of the wood may compensate for its lower level of productivity. Scion is confident there is an opportunity to increase the productivity of tōtara through a genetic improvement programme and improvements to silviculture.
The recent review of tōtara's economic potential for the region involved industry-wide engagement by all stakeholders, from governmental regulatory organisations to landowners, industry and end-users, and has taken a whole of region approach.
An independent market research company was contracted to review industry's perceptions of, and requirements from, a possible tōtara-based industry. As Scion's indigenous forest specialist Greg Steward says, industry involvement has been vital to the project, contributing their requirements for both volume production projections and quality.
"End-users have indicated a willingness to substitute tōtara products for imported resources," says Greg. "Regulatory bodies have shown a willingness to review legislation and policy around the management and utilisation of the resource, adding scope for further development.
"Industry and stakeholders now have a much greater understanding of the true potential both in managing the tōtara resource and the financial outcomes, with the involvement of independent consultants adding rigour and a level of impartiality to the project."
Collaborators / Partners: MPI, Northland Inc., TTT, NTWG
Investment: MPI, MBIE (PSAF), Scion Core, Northland Inc.
Short url: www.scionresearch.com/ar15totarapotential