Transforming bio-waste into valuable composites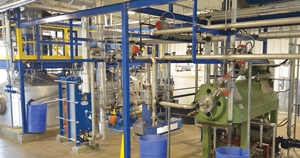 A revolutionary technology, developed by Ashburton-based company LignoTech Developments Ltd, is attracting interest internationally for its ability to transform agricultural waste into eco-friendly ingredients used to make bio-plastics and composites.
The technology transforms bio-waste into a replacement for petrochemical and mineral fillers that are used in the manufacture of plastics and composites, adding considerable value to what would otherwise be livestock feed or go to landfill.
The project is a result of a collaboration between LignoTech Developments Ltd, research partner Scion and Reichhold Inc, one the world's largest suppliers of unsaturated polyester resins for composites. LignoTech's patented steam explosion technology 'pressure cooks' lignocellulosic (woody) residue, such as dried distillers grains and corn fibre, making it amenable to further processing.
The powder produced from this process can then be incorporated into both thermosets (sheet moulding compound SMC, and bulk moulding compound BMC) and thermoplastics, such as high density polyethylene compounds. The end product is lighter, stronger and more durable than those made with dense, heavy calcium carbonate.
The powder particles are also smaller and uniformly sized so can be more evenly distributed, resulting in a superior surface on the final moulded product. This is a boon for the automobile industry in particular, where high quality paintable surfaces are a requirement.
The LignoTech - Scion partnership has been running for over seven years. During this time Scion has helped LignoTech optimise their material and develop thermoplastic and thermoset composites for property testing. We have also adjusted their process to produce a less moisture absorbent material.
After fire destroyed their Ashburton facility in December 2012, LignoTech took the opportunity to build a plant with increased capacity in the US, and with access to an abundant supply of raw material. The corn-ethanol industry in the US alone, generates over 40 million tonnes a year of dried distillers grains and solubles as a by-product.
The process adjustments developed at Scion have been incorporated into the design and construction of the new production facility in Kearney, Nebraska. Scion continues to support LignoTech with their US plant design and trialling our new technologies with their industrial clients.
Collaborators / Partners: LignoTech Developments Ltd; Reichhold Inc. (US)
Investment: LignoTech/Xylemer Bio-Products
Short url: www.scionresearch.com/ar15transformingbiowaste