The choice to use new genetic techniques
IO6: Licence to operate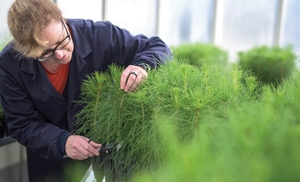 New Zealand has a restrictive regulatory environment governing the development and use of genetically modified organisms (GMOs). In comparison to many other advanced countries, the current legislation in New Zealand does not support recent technology developments, such as gene editing, and is out of step with global regulatory trends.

Genetically modified organisms are defined differently around the world. New biotechnology techniques that have been defined as GMOs in New Zealand, and are therefore heavily regulated, are not always considered GMOs in other countries. This results in biotechnology products - many of which cannot be distinguished from naturally occurring products - being produced and exported from some countries and not being identified as GMOs upon importation into New Zealand, but New Zealand producers are unable to produce, sell or export the exact same product.

Internationally, genetically modified forest crops are beginning to be released and grown, with impressive benefits demonstrated. Suzano and Futuragene's modified eucalypts have demonstrated a 20 per cent productivity gain and have been approved for release in Brazil. These trees are produced for fibre that competes in the heavily competitive pulp and paper industry against New Zealand manufacturers.

The New Zealand Forest Owners Association has indicated publicly through the media and council submissions that the forest industry has immediate need for several traits that would be available through GMO or gene editing technologies. In particular, the association supports the decisions concerning the testing and release of new genetic technologies being made by the Environmental Protection Authority (EPA) rather than by regional bodies under the Resource Management Act.

Scion's activities in this area primarily support evidence-based decision making that is in tune with global regulatory trends. Our prime motivation is to support the New Zealand forest industry's freedom to operate and remain internationally competitive with respect to GMO options and to ensure New Zealand has options for the future.

Findings of a report recently commissioned by Scion, show that genetically engineered trees with a range of traits, such as faster growth, improved wood quality and herbicide tolerance, could transform New Zealand's plantation forestry and add over $6.5 billion to the country's GDP by 2051.

The ability to generate sterile trees as a solution to the rising wilding pine problem is also of interest to the industry, and one that could significantly offset the estimated $750 million cost of restoring wilding affected ecosystems.

Input continues into the biotechnology debate in New Zealand around the potential benefits and the current road blocks in the regulatory framework. Scion's engagement with industry, Māori, government and regulatory bodies in this matter is ongoing, and we support industry in their discussions with Government and regulatory authorities, such as the EPA.

This year, Scion has also provided evidence to the Auckland Unitary Plan hearing on GMOs and the Hazardous Substances and New Organisms Act (HSNO), and made a number of high level submissions to other councils and regulatory authorities regarding the inclusion of genetic engineering options in national forestry standards, regional development plans and in updated HSNO Act regulations.


Investment: Scion Core