Innovating with seaweed
A project to reveal the hidden properties of seaweed cellulose is starting to gel. Seaweeds have unique natural properties.
For example, the cellulose in seaweed forms chains that are long and wide – up to four times wider than land-based plants. Cellulose is a structural component in the primary cell wall of green plants and is the most common organic polymer on Earth.
Drs Stefan Hill and Marie-Joo Le Guen are leading a project, in partnership with AgriSea New Zealand Seaweed Ltd, to understand the functional properties of celluloses from selected seaweed species and how they could be developed to replace fossil fuel-based products.
Properties
A number of seaweed species have been selected based on their properties, including the commonly found and under-utilised Undaria pinnatifida and the commercially developed Ecklonia radiata. The seaweed samples were processed using green chemistry principles and a proprietary method based on Scion's expertise in pulp and paper research.
Nanocellulose chains extracted from the seaweed samples were characterised using solid state nuclear magnetic resonance (NMR) and mechanical testing at Scion, and x-ray diffraction at the Australian Synchrotron. The seaweed cellulose has also been incorporated into paper and plastic composites to evaluate its thermal properties; examples of these items have been sent to a commercial laboratory (Bethel) in Japan to test how well they conduct heat. The results show seaweed nanocellulose to be significantly more effective at transferring heat compared to tree-based nanocellulose.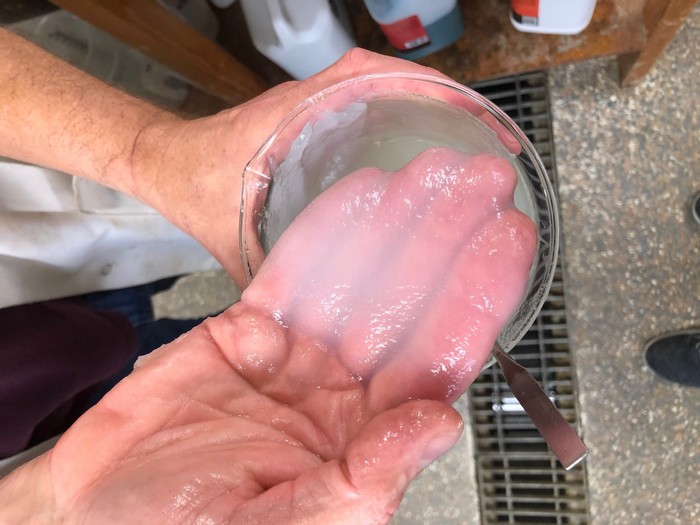 Products from seaweed
The nanocellulose from both U. pinnatifida and E. radiata has been used to make hydrogels. Hydrogels are often formed by cross-linked petroleum-based polymers absorbing vast amounts of water (up to 100 times their own weight) and swelling to form a jelly-like substance.
Seaweed nanocellulose can be used to replace petroleum-based polymers in a range of hydrogel products, this includes burn wound dressings, biomedical engineering applications, drug delivery, cosmetics, and in agriculture supporting plant health.
The hydrogels formed by the two seaweeds have displayed properties that distinguish them from nanocellulose hydrogels made from terrestrial plant cellulose.
Seaweed hydrogels have been made before, but never from species that are growing around New Zealand in sustainably harvestable quantities. The methods used to make the new nanocellulose hydrogels are also significantly cheaper than those currently in use.
Nanocellulose seaweed hydrogels offer not only a potential new revenue stream for New Zealand aquaculture but also access to new high-value onshore and export markets.
Project partner AgriSea New Zealand Seaweed Ltd is continuing the development of the nanocellulose hydrogels for their growing range of seaweed-based products, with Scion providing technical services to AgriSea as needed. Both partners are hugely excited to see this project move to commercialisation so soon.
The project impact leader Dr Marie-Joo Le Guen says, "This is an ideal example of our work here at Scion. Finding solutions to replace petrochemical-based products with renewable biobased products and providing a path for industry uptake.
"Working with an innovative company like AgriSea has been wonderful. Their appetite for exploration and desire to take on new challenges is invigorating."
More innovation on the horizon
The project team is now two years into their three-year project. They hope that the results from thermal conductivity testing will open another avenue of innovation for them to explore.
Stefan and his team have shown that seaweed nanocellulose crystals are able to transfer heat at a rate that is at least twice as fast as terrestrial plant-based nanocellulose. This opens potential for seaweed cellulose that could have a variety of uses in electronic applications in technology for passively cooling batteries in smart phones, for example, where fast and effective heat transfer is essential to extend their life.
The project received Smart Idea funding from the Ministry of Business, Innovation and Employment's 2018 Endeavour Fund.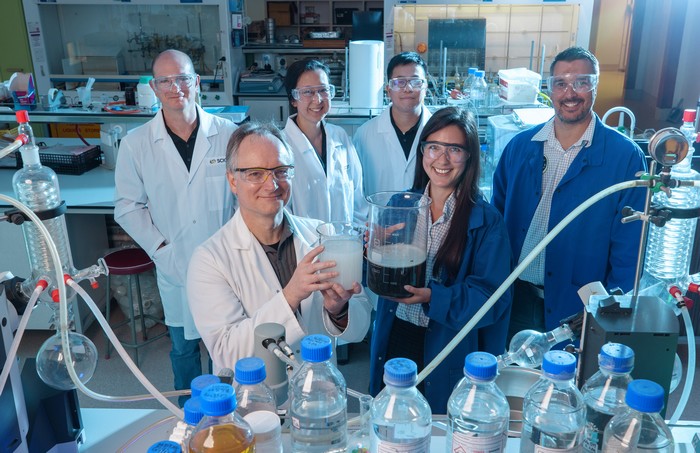 For further information on our seaweed research, please contact