Gareth Lloyd-Jones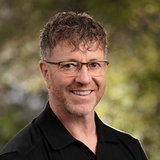 Contact
Phone:

+64 7 343 5862

Email:

Show email

Team:

Forest Genetics and Biotechnology

Role:

Research Group Leader, Forest Genetics and Biotechnology
About
Dr Gareth Lloyd-Jones is a biochemist specialising in industrial biotechnology. His research focuses on microbes and enzymes associated with the carbon cycle and how to re-employ these systems for biosynthetic purposes in a circular bioeconomy.
Gareth has co-developed bioplastics production goals embedded in Scion's 2030 Strategy. He has also led commercial discussions that have established a New Zealand consortium of companies with whom Scion is engaged to understand regional opportunities and technology platforms for commercial bioplastics production in New Zealand. Gareth has previously delivered bioremediation science and advice to Regional Authorities in New Zealand, hazardous material processors in Canada and multinational companies in the UK (Amoco and Monsanto) and to Antarctica New Zealand. He has provided scientific input into the commercialisation of biotechnologies development that is being commercialised by New Zealand biotech start-ups.
Qualifications
PhD (Biochemistry), University College of Wales, Aberystwyth, UK
BSc(Hons) (Biochemistry), University College of Wales, Aberystwyth, UK
Research capabilities
Biotechnology: enzyme discovery, production and modification; synthetic biology; bioplastics production; the study of microbial populations and enzymes associated with the degradation of organic matter and their application for biotechnology; modification of lignin for industrial applications using biotechnological and chemical approaches.
Career highlights
Leader of research into the discovery of new gene probes for monitoring contaminated soils. These have been applied for monitoring soil remediation work in over 20 countries.
Provided science leadership (NERF) to develop through to proof-of-concept four new environmental whole-cell biosensor techniques.
OECD Postdoctoral Fellowship (Co-operative Research Programme: Biological Resourse Management for Sustainable Agricultural Systems) (1996).
Led the development of new research capability in microbial insect symbioses associated with wood and lignin transformation.
Selected papers
https://scholar.google.co.nz/citations?user=DWZGoLEAAAAJ&hl=en