Forest Flows December 2021 update
The Forest Flows research programme started in October 2019 and by Christmas 2021 we will have reached a major milestone with the completion of setting up 4 of the 5 primary research sites. In January 202 we will install the fifth site and then we be moving into the science phase of the programme.

Understanding how water flows through the land, including planted forests, is essential to make the best use of land and water while maintaining environmental health. Forest Flows will develop methods to predict water use in planted forests and water supply to downstream users, and answer the questions: Where is the water? Where is it going? And who gets to use it?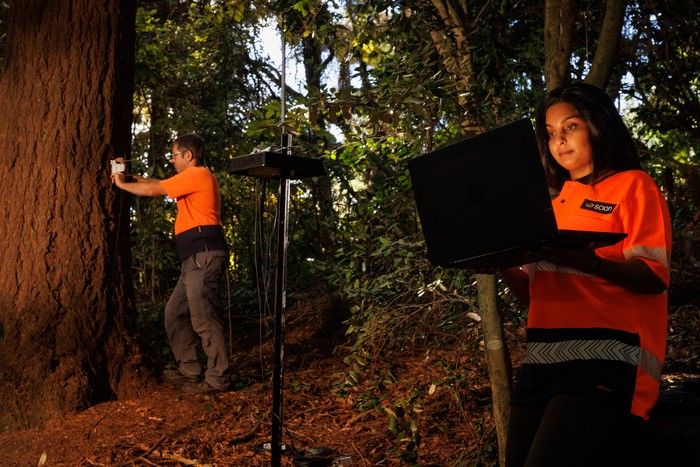 Collaborators and research sites
Forest Flows has 13 research collaborators in New Zealand, Australia, Chile, the USA, and Portugal. We have been planning the nuts and bolts of the programme including identifying research sites, planning how to set up equipment, and developing workplans.
The research site set-up has been led by Scion and NIWA and over the past year we have set-up most of the primary research sites throughout Aotearoa. These sites will be the most intensively measured both on the ground and from the air. There are also five secondary sites that provide additional data to the primary sites. Two of the secondary sites are providing data and the remaining three will be completed by the end of March 2022.

We want to thank the tangata whenua, landowners, and forest managers for graciously hosting the research sites and engagement with the programme.

Although we have been focused on the set-up of the research, some of the Forest Flows teams have started their research and in some cases are ahead of schedule.
Cutting Edge Technology
Key to the success of Forest Flows is developing a wireless datalogger network that can collect sensor data from multiple locations in a catchment and transmit it back to the office. However, forests are a very difficult environment to operate in as electronics are damaged by the damp environment, locations are remote, and signal is reduced by the terrain and vegetation. Existing expensive datalogger technology does not work well in forests.

Scion collaborated with the New Zealand technology Research and Design company INFACT Ltd infact.co.nz, who successfully developed a fit-for-purpose, low-cost dataloggers able to meet the above challenges. The FlowLab dataloggers were built by New Zealand company Quick Circuit Ltd., quickcircuit.co.nz, and can operate five different types of sensors. This is a great example of NZ Inc. that successfully developed a world-leading technology.
NIWA has deployed sensors to measure the climate, groundwater, streamwater, and other measurements with their Lora sensor network. Together data collected by Scion and NIWA sensors will provide a real time understanding of water use, water retention and water release in catchments. Forest Flows has in total 19 different types of sensors and collectors at each primary site, which will provide an unprecedented understanding of hydrology in planted forests.
The jewel of the Forest Flows crown is SlimSAR L- and P-Band synthetic aperture radar (SAR). This new radar technology from the USA can measure soil moisture from a plane to a depth of 1.5m. If successful, SlimSAR will provide a faster way to map soil properties and soil moisture across forested catchments and provide new insights on the mysteries of water retention and release in planted forests. Once we have a licence to operate, we will start collecting data this year.
Community Workshops
Forest Flows ran two successful community workshops in Masterton and Dannevirke in late spring. We shared with the local communities what Forest Flows is all about and we learnt from them what questions they have about trees, forests, and water. We learnt a lot from these workshops, and I certainly enjoyed the discussions. Thank you very much to the organisers and attendees who gave up their valuable time to attend.
Forest Flows will take learnings from these and future workshops to tailor the programme findings to provide the information that is most relevant for local communities. We look forward to more workshops this year.